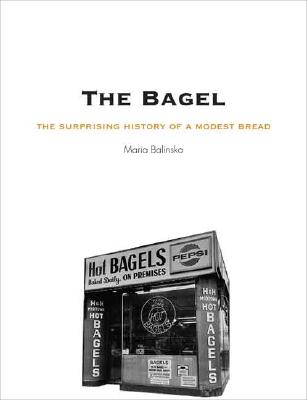 The Bagel
The Surprising History of a Modest Bread
Hardcover

* Individual store prices may vary.
Other Editions of This Title:
Paperback (9/29/2009)
Description
If smoked salmon and cream cheese bring only one thing to mind, you can count yourself among the world's millions of bagel mavens. But few people are aware of the bagel's provenance, let alone its adventuresome history. This charming book tells the remarkable story of the bagel's journey from the tables of seventeenth-century Poland to the freezers of middle America today, a story of often surprising connections between a cheap market-day snack and centuries of Polish, Jewish, and American history.Research in international archives and numerous personal interviews uncover the bagel's links with the defeat of the Turks by Polish King Jan Sobieski in 1683, the Yiddish cultural revival of the late nineteenth century, and Jewish migration across the Atlantic to America. There the story moves from the bakeries of New York's Lower East Side to the Bagel Bakers Local 388 Union of the 1960s, and the attentions of the mob. For all its modest size, the bagel has managed to bridge cultural gaps, rescue kings from obscurity, charge the emotions, and challenge received wisdom. Maria Balinska weaves together a rich, quirky, and evocative history of East European Jewry and the unassuming ring-shaped roll the world has taken to its heart.
Praise For The Bagel: The Surprising History of a Modest Bread…
"After years of research on Jewish food in America, I thought I had discovered all there was to know about the bagel and its journey. But then I read Maria Balinska''s lively and well-researched book, The Bagel. Her book has filled in many of the questions I had about the bagel and raised new ones, too."—Joan Nathan, Slate
-Joan Nathan

"A charming history of the roll with a hole, ranging across three centuries and two continents."—Glenn C. Altschuler, Forward
-Glenn C. Altschuler

"A delightful book that will enchant and educate its readers."—Morton I. Teicher, National Jewish Post & Opinion
-Morton I. Teicher

"A fascinating topic and one that Maria Balinska treats superbly. . . . I especially admire her scholarship, lively prose and tireless reportorial digging."—Joan Nathan, Moment
-Joan Nathan

"The book, thought-provoking and fact-filled, is one that also uses the bagel as a way of viewing Polish-Jewish history."—Mervyn Rothstein, New York Times 
-Mervyn Rothstein

"[A] scrumptious little book. . . . The cover alone would whet any New Yorker''s weekend appetite."— Sam Roberts, New York Times
-Sam Roberts

"Balinska gives readers plenty to chew on. . . . Thoroughly entertaining."—Dara Horn, Wall Street Journal

-Dara Horn

"[A] gem of culinary and social reportage." — Sandra M. Gilbert, The American Scholar
-Sandra M. Gilbert

"A good addition to the field of culinary history. . . . This witty, readable, deeply researched book deserves to be read. . . . Recommended."—Choice

"Charming and scholarly."— Sheldon Kirshner, Canadian Jewish News
-Sheldon Kirshner

'[The bagel has] found a fresh and lively chronicler in Maria Balinska, who seems as much at home with the bagel's Polish and Jewish past as with its all-American present … Light and piquant, and yet at the same time seriously satisfying, The Bagel is anything but stodgy fare.' - Michael Kerrigan, The Scotsman

-Michael Kerrigan

". . . [A] history of and love-letter to Jewish culture. . . . ranges stylishly from the lifting of the siege of Vienna . . . through . . . the Nazi ghettos . . . to the post-war New York bagel-baking unions and the gradual transformation of the bagel into an ''all-American'' food." — Steven Poole, Guardian
-Steven Poole
Yale University Press, 9780300112290, 220pp.
Publication Date: October 1, 2008
About the Author
Maria Balinska is editor of BBC Radio s World Current Affairs department, and a journalist and documentary maker specializing in Eastern Europe and the United States. She lives in London."
or
Not Currently Available for Direct Purchase