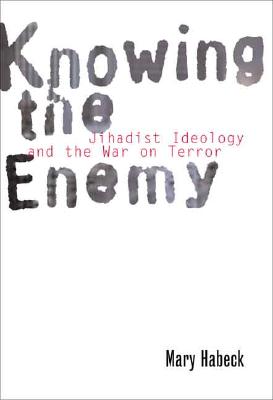 Knowing the Enemy
Jihadist Ideology and the War on Terror
Hardcover

* Individual store prices may vary.
Description
After September 11, Americans agonized over why nineteen men hated the United States enough to kill three thousand civilians in an unprovoked assault. Analysts have offered a wide variety of explanations for the attack, but the one voice missing is that of the terrorists themselves. This penetrating book is the first to present the inner logic of al-Qa ida and like-minded extremist groups by which they justify September 11 and other terrorist attacks.
Mary Habeck explains that these extremist groups belong to a new movement known as jihadism with a specific ideology based on the thought of Muhammad ibn Abd al-Wahhab, Hasan al-Banna, and Sayyid Qutb. Jihadist ideology contains new definitions of the unity of God and of jihad, which allow members to call for the destruction of democracy and the United States and to murder innocent men, women, and children. Habeck also suggests how the United States might defeat the jihadis, using their own ideology against them.
Praise For Knowing the Enemy: Jihadist Ideology and the War on Terror…
"This important book provides the first clear analysis of the radical ideology propelling the terrorism of the Middle East. Habeck''s explanation of Jihadism is set forth in a poised, authoritative voice—a model for a study of this kind."—Charles Hill, Distinguished Fellow, International Security Studies, Yale University
-Charles Hill

"Habeck has put together so many pieces from so many sources together in such a manner that no writer on this topic can afford to ignore this book. Making the case for the primacy of these ideas, not merely as products of impersonal socio-economic structures and international systemic factors, is not a minor undertaking. Knowing the Enemy constitutes an admirable effort to coherently portray the world view of Jihadists and identify their differences as well."—Ibrahim Karawan, Director, Middle East Center, University of Utah


-Ibrahim Karawan

"The book ... is admirably accessible also to the non-specialist …."—Richard John Neuhaus, First Things
Yale University Press, 9780300113068, 256pp.
Publication Date: January 1, 2006
About the Author
MARY HABECK is associate professor, School of Advanced International Studies, Johns Hopkins University. She is coeditor of "Spain Betrayed: The Soviet Union in the Spanish Civil War "and "The Great War and the Twentieth Century, "both published by Yale University Press."
or
Not Currently Available for Direct Purchase