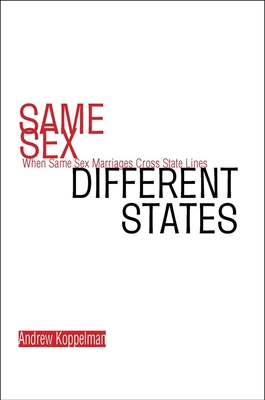 Same Sex, Different States
When Same-Sex Marriages Cross State Lines
Hardcover

* Individual store prices may vary.
Description
Must a state in which gay marriage is not legal recognize such a marriage performed in another state? The Constitution does not require recognition in all cases, but it does forbid states from nullifying family relationships based in other states, or from making themselves havens for people who are trying to escape obligations to their spouses and children. In this book, Andrew Koppelman offers workable legal solutions to the problems that arise when gay couples cross state borders. Drawing on historical precedents in which states held radically different moral views about marriage (for example, between kin, very young individuals, and interracial couples), Koppelman shows which state laws should govern in specific situations as gay couples travel or move from place to place.
Americans are profoundly divided over same-sex marriage, and now that gay civil unions and marriages are legal in some states, the issue has become increasingly urgent. Koppelman offers a sensible approach that will appeal to the best instincts of both sides.
Praise For Same Sex, Different States: When Same-Sex Marriages Cross State Lines…
"If same-sex marriages are lawfully performed in one state, must other states recognize those marriages? Koppelman has produced the best discussion, by far, of this important question. In the process, he clarifies a wide range of issues swirling about the same-sex marriage debate. This book is a genuine public service."—Cass Sunstein, Karl N. Llewellyn Distinguished Service Professor of Jurisprudence, University of Chicago
— Cass Sunstein
"A timely addition to the literature."—Lea Brilmayer, Howard Holtzmann Professor of International Law, Yale Law School



— Lea Brilmayer
Yale University Press, 9780300113402, 224pp.
Publication Date: November 30, 2006
About the Author
Andrew Koppelman is professor of law at Northwestern University School of Law and author of Antidiscrimination Law and Social Equality and The Gay Rights Question in Contemporary American Law. He lives in Evanston, IL.


or
Not Currently Available for Direct Purchase