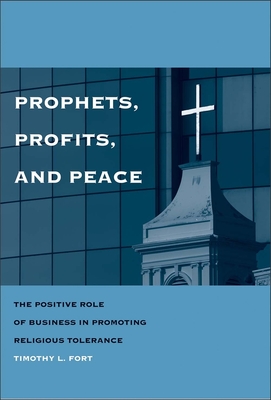 Prophets, Profits, and Peace
The Positive Role of Business in Promoting Religious Tolerance
Hardcover

* Individual store prices may vary.
Description
This groundbreaking book investigates the religious issues that businesses confront as they expand their global activity and proposes that corporations can become instruments of peace. Timothy Fort discusses the newly emerging idea of "peace through commerce," and he argues powerfully that today's businesses have the capacity to foster both peace and religious harmony.
Fort asks and answers important questions: How might businesses integrate spirituality into corporate affairs? How can spirituality contribute to the production of high-quality goods and services? What can be done to promote a spiritual connection between employees and their work? Can this be done without provoking religious animosities? What business practices might encourage an atmosphere in which constructive dialogue among spiritual traditions could proceed? The author concludes that by implementing the peaceful practices advocated by religions at their best, businesses can both nurture religious harmony and strengthen their communities.
Praise For Prophets, Profits, and Peace: The Positive Role of Business in Promoting Religious Tolerance…
"Tim Fort dares to examine the taboo relationship between religion and business, and he does so with care and rigor. After unearthing their inevitable and often ineffable relationship, he suggests that a more explicit connection would strengthen each as a constructive force in society."—Joshua D. Margolis, Associate Professor of Business Administration, Harvard Business School
— Joshua D. Margolis
"Tim Fort's latest book insightfully proposes a new 3 Ps for the twenty-first century. He provides a compelling argument for religion's increased role in business, drawing on such ethical precepts as meaningful dialogue, trust, international common good and reciprocity."—Patrick E. Murphy, C. R. Smith Co-Director, Institute for Ethical Business Worldwide, Mendoza College of Business, University of Notre Dame
— Patrick E. Murphy
". . . A well-crafted introduction to a small but growing area of scholarly research and a worthwhile acquisition for libraries that serve liberal arts programs hoping to integrate social and political philosophy, religion, and business. Recommended."—Choice
— Choice
"Fort's book makes for interesting reading for those working in interreligious dialogue."—John T. Pawlikowski,
Journal of Ecumenical Studies
— John T. Pawlikowski
Yale University Press, 9780300114676, 224pp.
Publication Date: September 30, 2008
About the Author
Timothy L. Fort is executive director of the Institute for Corporate Responsibility, coordinator of The Peace Through Commerce Program, and Lindner-Gambal Professor of Business Ethics at George Washington University.
or
Not Currently Available for Direct Purchase