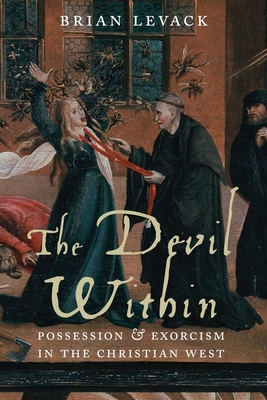 The Devil Within
Possession and Exorcism in the Christian West
Hardcover

* Individual store prices may vary.
Description
A fascinating, wide-ranging survey of the history of possession and exorcism through the ages

In the sixteenth and seventeenth centuries, the era of the Reformation, thousands of Europeans were thought to be possessed by demons. In response to their horrifying symptoms—violent convulsions, displays of preternatural strength, vomiting of foreign objects, displaying contempt for sacred objects, and others—exorcists were summoned to expel the evil spirits from victims' bodies. This compelling book focuses on possession and exorcism in the Reformation period, but also reaches back to the fifteenth century and forward to our own times. Entire convents of nuns in French, Italian, and Spanish towns, 30 boys in an Amsterdam orphanage, a small group of young girls in Salem, Massachusetts—these are among the instances of demon possession in the United States and throughout Europe that Brian Levack closely examines, taking into account the diverse interpretations of generations of theologians, biblical scholars, pastors, physicians, anthropologists, psychiatrists, and historians. Challenging the commonly held belief that possession signals physical or mental illness, the author argues that demoniacs and exorcists—consciously or not—are following their various religious cultures, and their performances can only be understood in those contexts.
Praise For The Devil Within: Possession and Exorcism in the Christian West…
"Riveting [and] readable . . . must-reading for students of history, psychology and religion." —
Publishers Weekly
— Publishers Weekly
"Brian P. Levak, a distinguished historian of early modern witchcraft, now sets exorcism in a long historical perspective, providing the most comprehensive and scholarly overview of the theme yet published...Underpinned by deep and empathetic learning, and an enviable knowledge of the sources, Levack's cultural "script" theory of possession and exorcism is an attractive one."—Peter Marshall, Times Literary Supplement
— Peter Marshall

Selected as a Choice Outstanding Academic Title for 2013 in the Western Europe Category.
— Outstanding Academic Title
Yale University Press, 9780300114720, 360pp.
Publication Date: April 23, 2013
About the Author
Brian P. Levack is John E. Green Regents Professor in History, University of Texas at Austin, and author of the best-selling book The Witch-Hunt in Early Modern Europe. He lives in Austin, TX.
or
Not Currently Available for Direct Purchase