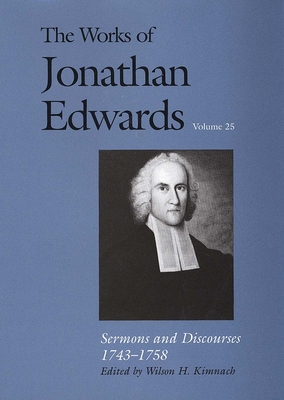 The Works of Jonathan Edwards, Vol. 25 (Hardcover)
Volume 25: Sermons and Discourses, 1743-1758 (The Works of Jonathan Edwards Series)
Yale University Press, 9780300115390, 816pp.
Publication Date: October 2, 2006
Other Editions of This Title:
Paperback (8/25/2009)
Hardcover (7/11/2001)
Hardcover (7/11/2000)
Hardcover (4/20/1998)
Hardcover (2/17/1998)
Hardcover (12/28/1994)
Hardcover (4/10/2003)
Hardcover (9/10/1984)
Hardcover (9/10/1980)
Hardcover (9/10/1977)
Hardcover (9/10/1972)
Hardcover (9/10/1970)
Hardcover (12/23/1992)
Hardcover (7/11/2002)
Hardcover (12/11/2002)
Hardcover (9/10/1989)
Hardcover (10/2/2006)
Hardcover (10/13/1993)
Hardcover (6/22/1994)
* Individual store prices may vary.
Description
This wide-ranging volume covers the final fifteen of the thirty-three years that Jonathan Edwards preached and includes some of his greatest sermons—including his Farewell Sermons to his Northampton congregation. The period is defined by Edwards' inventive strategies to improvise during the delivery of his sermons. Considering dependence on the written text in the pulpit to be a serious failing, he devised a double-columned, outlined format for his sermon manuscripts and continued to use it for the rest of his life. Sermons from this period also include those preached to Mahican and Mohawk Indians at the mission post of Stockbridge, Massachusetts.
Edwards' various writings of 1743–58 map the complex terrain of his spiritual, intellectual, and professional life after the Great Awakening. He deals with topics ranging from the spiritual role of youth in the community to the struggles over communion in his Northampton congregation to the war with the French and their Indian allies.
About the Author
Wilson H. Kimnach is general editor of the Jonathan Edwards sermon series in The Works of Jonathan Edwards and coeditor of The Sermons of Jonathan Edwards: A Reader. He is Presidential Professor in the Humanities at the University of Bridgeport and lives in Woodbridge, CT.


or
Not Currently Available for Direct Purchase