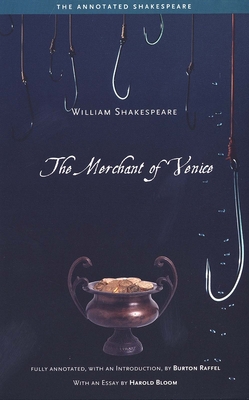 The Merchant of Venice (The Annotated Shakespeare) (Paperback)
Yale University Press, 9780300115642, 208pp.
Publication Date: September 27, 2006
Other Editions of This Title:
Paperback (3/10/2009)
Paperback (12/4/2012)
Paperback (4/26/2010)
Paperback (3/10/2009)
Paperback (11/11/2013)
Paperback (5/20/2013)
Paperback (10/14/2011)
Paperback (5/10/2015)
Paperback (5/20/2016)
Paperback (3/31/2016)
Paperback (10/5/2007)
Paperback (4/10/2009)
Paperback, Large Print (5/17/2016)
Paperback (1/1/2009)
Paperback (1/1/2009)
Paperback, Spanish (12/1/1999)
Paperback (6/10/2010)
Paperback (1/10/2014)
Paperback (6/23/2011)
Paperback (4/4/2010)
* Individual store prices may vary.
Description
In this lively comedy of love and money in sixteenth-century Venice, Bassanio wants to impress the wealthy heiress Portia but lacks the necessary funds. He turns to his merchant friend, Antonio, who is forced to borrow from Shylock, a Jewish moneylender. When Antonio's business falters, repayment becomes impossible—and by the terms of the loan agreement, Shylock is able to demand a pound of Antonio's flesh. Portia cleverly intervenes, and all ends well (except of course for Shylock).
About the Author
Burton Raffel is Distinguished Professor of Arts and Humanities Emeritus and professor of English emeritus, University of Louisiana at Lafayette. His most recent of many edited and translated publications is Das Nibelungenlied, published by Yale University Press. He lives in Lafayette. Harold Bloom, Sterling Professor of the Humanities at Yale University and Berg Professor of English at New York University, is the author of many books, including The Western Canon, Shakespeare: The Invention of the Human, and Jesus and Yahweh: The Names Divine.