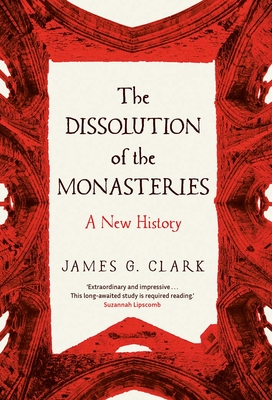 The Dissolution of the Monasteries
A New History
Hardcover

* Individual store prices may vary.
Other Editions of This Title:
Paperback (2/21/2023)
Description
The first account of the dissolution of the monasteries for fifty years—exploring its profound impact on the people of Tudor England
 
"This is a book about people, though, not ideas, and as a detailed account of an extraordinary human drama with a cast of thousands, it is an exceptional piece of historical writing."—Lucy Wooding, Times Literary Supplement
 
Shortly before Easter, 1540 saw the end of almost a millennium of monastic life in England. Until then religious houses had acted as a focus for education, literary, and artistic expression and even the creation of regional and national identity. Their closure, carried out in just four years between 1536 and 1540, caused a dislocation of people and a disruption of life not seen in England since the Norman Conquest.
 
Drawing on the records of national and regional archives as well as archaeological remains, James Clark explores the little-known lives of the last men and women who lived in England's monasteries before the Reformation. Clark challenges received wisdom, showing that buildings were not immediately demolished and Henry VIII's subjects were so attached to the religious houses that they kept fixtures and fittings as souvenirs. This rich, vivid history brings back into focus the prominent place of abbeys, priories, and friaries in the lives of the English people.
Praise For The Dissolution of the Monasteries: A New History…
"The most important book on the subject for two generations. . . . Clark's achievement is unmistakable. . . . Carefully researched, beautifully structured, and courageously argued,
The Dissolution of the Monasteries
is precise, polemical, and sweeping. It should be instantly recognized as a classic."—Crawford Gribben,
Wall Street Journal
"Deeply researched . . . steeped in primary sources, scrupulously polite and anti-sensational. . . . The result may well be the most important book on the English Reformation since Eamon Duffy's
The Stripping of the Altars
."—Dan Jones,
Sunday Times
"Clark . . . builds up a huge mosaic of life on the eve of the Reformation, taken from letters and law cases, wills and account books."—Christopher Howse,
Daily Telegraph
"A terrific work of scholarship and profoundly dispiriting with it. . . . The big narrative is enlivened by riveting accounts of individuals caught up in the great events."—Melanie McDonagh,
Catholic Herald
, "Books of the Year"
"James Clark's absorbing and formidable study presents much that is refreshingly new. . . . It was easy to misread Henry VIII . . . in the 1530s. This is where Clark's account is at its most rewarding. . . . For there is no sign until the very last twelve months of monastic life that there was any masterplan for complete suppression."—Diarmaid MacCulloch,
London Review of Books
"Important and original . . .; it will deservedly become the standard textbook for the next generation of scholars."—Hugh Willmott,
BBC History Magazine
"This book is a considerable achievement, absorbing in its detail, not easy to do justice in a short review. Among many striking discussions, there is vivid, wide-ranging treatment of monastic life in late medieval England and Wales."—Ann Hughes,
Times Higher Education Supplement
"An impressively detailed study that yields a rich harvest. Clark has unearthed a wealth of overlooked details to challenge centuries of controversy and misconception, and provides a welcome new perspective on Henry VIII, his 'henchman' Thomas Cromwell and other powerful members of the court."—Tracy Borman,
BBC History Magazine
, "Books of the Year"
"One of the most interesting elements of James Clark's excellent, substantial new book is the epilogue on the afterlife of the religious houses and indeed of the religious themselves—right into Jacobean England."—Melanie McDonagh,
The Tablet
"This extraordinary and impressive piece of scholarship, delivered in marvellously clear prose, offers a forensic investigation of how and why, under Henry VIII, monasticism in England was brought to such a swift and merciless end, and charts, as no other work has done, the profound social consequences of this seismic change. This long-awaited study is required reading."—Suzannah Lipscomb, author of 
The King is Dead
"Exceptional … The author's extensive research has unearthed a wealth of previously overlooked details that challenge centuries of controversy, rumour and misconception.  As well as providing a fresh perspective on well known characters such as Henry VIII and his 'henchman' Thomas Cromwell, the narrative brings the people who lived and worked in the monasteries vividly to life.  A stunning achievement."—Tracy Borman, author of Thomas Cromwell
"Establishes Professor Clark as the leading authority on Tudor monasticism and the experience of its end; and it is therefore now the main text in that major field."—Ronald Hutton, author of 
The Making of Oliver Cromwell
"This is a landmark book. Clark has swept away many old generalisations and assumptions in favour of a much more detailed and nuanced account of this social (as well as religious) revolution. The end result is nothing short of magnificent – yet also intricate, intimate, touchingly human and endlessly fascinating."—Ian Mortimer, author of 
The Time Traveller's Guide to Medieval England
Yale University Press, 9780300115727, 704pp.
Publication Date: November 2, 2021
About the Author
James Clark is professor of history at the University of Exeter. He has published widely on medieval monasteries and their place in the medieval world, and he was historical advisor on the BBC TV series Tudor Monastery Farm.