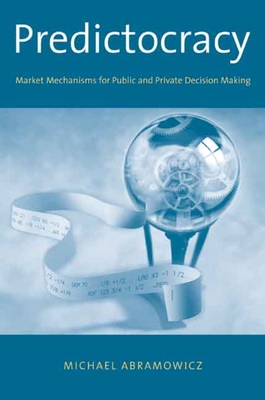 Predictocracy
Market Mechanisms for Public and Private Decision Making
Hardcover

* Individual store prices may vary.
Description
Predicting the future is serious business for virtually all public and private institutions, for they must often make important decisions based on such predictions. This visionary book explores how institutions from legislatures to corporations might improve their predictions and arrive at better decisions by means of prediction markets, a promising new tool with virtually unlimited potential applications.
Michael Abramowicz explains how prediction markets work; why they accurately forecast elections, sports contests, and other events; and how they may even advance the ideals of our system of republican government. He also explores the ways in which prediction markets address common problems related to institutional decision making. Throughout the book the author extends current thinking about prediction markets and offers imaginative proposals for their use in an array of settings and situations.
Praise For Predictocracy: Market Mechanisms for Public and Private Decision Making…
"Decision markets will one day revolutionize governance, both public and private, and Michael Abramowicz's Predictocracy is the first book length exploration of them—a wild roller coaster ride through the many strange wonders to be found in this vast new territory."—Robin Hanson, Associate Professor, Economics, George Mason University
— Robin Hanson
"A terrific and forward-looking book in which imagination and insight come at the reader as fast as prediction markets are growing."—Saul Levmore, Dean & William B. Graham Professor of Law, University of Chicago
— Saul Levmore
"Will Hillary or Arnold ever be elected? Will Die Hard VIII be a hit? Will the HP merger go through? Will Sanjaya be voted off this week? Our best evidence on all these questions increasingly comes from prediction markets. We already live in a world where orange juice future prices can usefully supplement the best government weather predictions. But Predictocracy shows that we're just scratching the surface of what can be done with this powerful tool. Abramowicz's inventive mind shows new ways to design prediction markets and radically new domains to predict. In this new world, peer reviewed journals, legal restatements, even deliberative democracy may ultimately be guided by the force of predictive bets."—Ian Ayres, Professor, Yale Law School and author of Super Crunchers: Why Thinking-By-Numbers is the New Way to be Smart
— Ian Ayres
"Abramowicz argues that prediction markets could be used to improve forecasts and help with decision making in almost any field. . . . [He] argues persuasively that they have merit and that policy makers and researchers should experiment with them to assess their value for decision making. Recommended."—
Choice
— Choice
Yale University Press, 9780300115994, 368pp.
Publication Date: January 29, 2008
About the Author
Michael Abramowicz is associate professor of law, George Washington University. He lives in Arlington, VA.
or
Not Currently Available for Direct Purchase