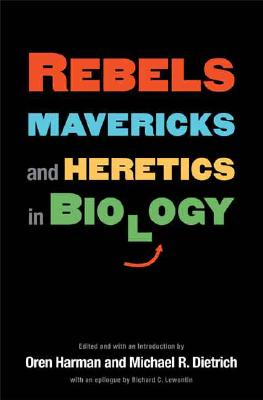 Rebels, Mavericks, and Heretics in Biology
Hardcover

* Individual store prices may vary.
Other Editions of This Title:
Paperback (9/1/2009)
Description
This book is the first devoted to modern biology's innovators and iconoclasts: men and women who challenged prevailing notions in their fields. Some of these scientists were Nobel Prize winners, some were considered cranks or gadflies, some were in fact wrong. The stories of these stubborn dissenters are individually fascinating. Taken together, they provide unparalleled insights into the role of dissent and controversy in science and especially the growth of biological thought over the past century.Each of the book's nineteen specially commissioned chapters offers a detailed portrait of the intellectual rebellion of a particular scientist working in a major area of biology--genetics, evolution, embryology, ecology, biochemistry, neurobiology, and virology as well as others. An introduction by the volume's editors and an epilogue by R. C. Lewontin draw connections among the case studies and illuminate the nonconforming scientist's crucial function of disturbing the comfort of those in the majority. By focusing on the dynamics and impact of dissent rather than on winners who are credited with scientific advances, the book presents a refreshingly original perspective on the history of the life sciences.Scientists featured in this volume: Alfred Russel WallaceHans DrieschWilhelm JohannsenRaymond Arthur DartC. D. DarlingtonRichard GoldschmidtBarbara McClintockOswald T. AveryRoger SperryLeon CroizatVero Copner Wynne-EdwardsPeter MitchellHoward TeminMotoo KimuraWilliam D. HamiltonCarl WoeseStephen Jay GouldThelma RowellDaniel S. Simberloff
Praise For Rebels, Mavericks, and Heretics in Biology…
"Excellent history presented in well-written chapters and an innovative approach to the history of science—this volume makes an interesting read."—Jane Maienschein, Arizona State University

-Jane Maienschein

"Readers will enjoy the opportunity to become acquainted with life scientists who made a difference and had an interesting life/career story. There is something for everybody in this volume."—Everett Mendelsohn, Harvard University

-Everett Mendelsohn

"The inclusion of well-known as well as unknown scientists is one of the great strengths of this volume . . . it permits the authors . . . to examine how different personalities deal in different ways with the vicissitudes of challenging scientific orthodoxy.. ."—Robert Root-Bernstein, JAMA
-Robert Root-Bernstein
Yale University Press, 9780300116397, 416pp.
Publication Date: June 1, 2008
About the Author
Oren Harman isassociate professor, Graduate Program for Science, Technology and Society, Committee on Interdisciplinary Studies, Bar Ilan University, Israel. Michael R. Dietrich is professor, Department of Biological Sciences, Dartmouth College."
or
Not Currently Available for Direct Purchase