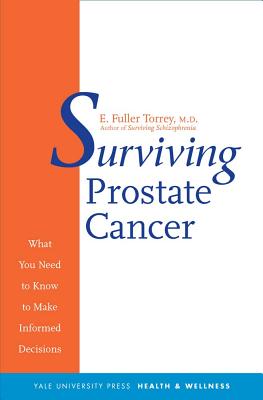 Surviving Prostate Cancer
What You Need to Know to Make Informed Decisions
Hardcover

* Individual store prices may vary.
Other Editions of This Title:
Paperback (1/28/2008)
Description
When Dr. E. Fuller Torrey was diagnosed with prostate cancer, none of the books he could find was current enough or comprehensive enough to satisfy his need for information. This book is for the hundreds of thousands of other men who each year receive the same frightening diagnosis. It is the book Dr. Torrey wished he had when he was facing the countless questions that a man with prostate cancer, and his family and friends, all confront.
Complete, up-to-date, and readable, the book explains how to come to terms with the diagnosis of prostate cancer, evaluate the severity of the disease, and assess the variety of treatment options and their complications. Many chapters provide information other books barely consider, such as a full discussion of the causes of prostate cancer and an evaluation of other books on the subject. Also included is a summary of the most useful Web sites.
The author mixes his personal experience with factual material, and he maintains a reassuring sense of humor. His advice is practical, with dozens of tips and lists including Ten Steps to Sanity for Men Recently Diagnosed with Prostate Cancer. With Dr. Torrey's book in hand, readers can now tackle all the important decisions about prostate cancer, confident in having the most accurate and complete information available.
Praise For Surviving Prostate Cancer: What You Need to Know to Make Informed Decisions…
"Hopeful and reassuring, very balanced. Not scary and not too heavy on the psychological. Easy to understand."—Kathleen Besha, RN, BSN
-Kathleen Besha

"Fiercely frank, yet compassionate and sensitive. This book is liberating in its honest revelations about self and its bringing together the revelations of others. Surviving Prostate Cancer destigmatizes, demystifies and educates all who have the wisdom to read this book."—Dr. Stephen P. Hersh
-Stephen P. Hersh

"Dr. Torrey skillfully guides the reader through the tangle of knowledge surrounding prostate cancer and helps him to focus on important facts. What sets his book apart is the detail and thoroughness of his discussions."—Ralph DeVito, M.D., urologist




-Ralph DeVito

"Torrey''s book is a clear summary of the issues a man has to deal with when he''s faced with prostate cancer. If it had been available when I was diagnosed, it would have made the decisions a lot easier."—Tom Andersen, author

-Tom Andersen

"Dr. Torrey addresses every aspect of getting through prostate cancer that any man would need, in a thorough, yet understandable and human manner. I would recommend this book to any man seeking to prepare himself for the journey through prostate cancer."—Sally L. Maliski, PhD, RN, UCLA School of Nursing
-Sally L. Maliski
Yale University Press, 9780300116403, 304pp.
Publication Date: October 1, 2006
About the Author
E. Fuller Torrey, M.D., is a research psychiatrist and associate director for laboratory research, The Stanley Medical Research Institute. He is also the author of 18 books, including The Roots of Treason: Ezra Pound and the Secrets of St. Elizabeths, a National Book Critics Circle nominee. He lives in Bethesda, MD.
or
Not Currently Available for Direct Purchase