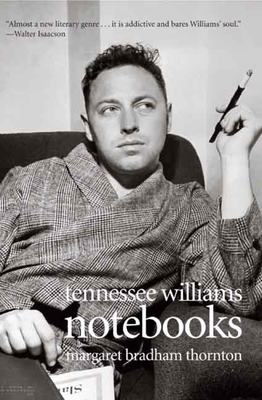 Notebooks
Hardcover

* Individual store prices may vary.
Description
Tennessee Williams's Notebooks, here published for the first time, presents by turns a passionate, whimsical, movingly lyrical, self-reflective, and completely uninhibited record of the life of this monumental American genius from 1936 to 1981, the year of his death. In these pages Williams (1911-1981) wrote out his most private thoughts as well as sketches of plays, poems, and accounts of his social, professional, and sexual encounters. The notebooks are the repository of Williams's fears, obsessions, passions, and contradictions, and they form possibly the most spontaneous self-portrait by any writer in American history.
Meticulously edited and annotated by Margaret Thornton, the notebooks follow Williams' growth as a writer from his undergraduate days to the publication and production of his most famous plays, from his drug addiction and drunkenness to the heights of his literary accomplishments. At one point, Williams writes, "I feel dull and disinterested in the literary line. Dr. Heller bores me with all his erudite discussion of literature. Writing is just writing! Why all the fuss about it?" This remarkable record of the life of Tennessee Williams is about writing—how his writing came up like a pure, underground stream through the often unhappy chaos of his life to become a memorable and permanent contribution to world literature.
Praise For Notebooks…
"Margaret Thornton has done something that would have delighted Tennessee Williams. She has served up his revealing notebooks with so rich of a mix of additional material and notations that the result is almost a new literary genre: a mix of diary, biography, autobiography, scrapbooks, and documentary history. It is addictive, and it bares Williams's soul."—Walter Isaacson, author of Benjamin Franklin: An American Life
— Walter Isaacson
"These notebooks—partial as they are—will help clarify the creative and psychological highs and lows which both sustained and buffeted Tennessee Williams throughout his extraordinary life."—Edward Albee


— Edward Albee
"Of the more than one hundred books written about Tennessee Williams since his death, his own book, the Notebooks, is unique. It records the innermost feelings of America's greatest playwright from youth to old age, as jotted down by the playwright himself."—Allean Hale, Krannert Theatre, University of Illinois-Urbana

— Allean Hale
"Here we have Tennessee Williams on and about Tennessee Williams, more revealing even than the Letters and sometimes more vulnerable than in the Memoirs. Thornton has supplied a masterfully edited, copiously annotated, and lavishly illustrated edition that is invaluable for scholars and Williams fans worldwide."—Philip C. Kolin, University of Southern Mississippi

— Philip C. Kolin
"A sound and solid record of an artist's intimate mind and heart—and while personal, the Notebooks offer new insight into the cognitive patterns, cultural context, and physical life of one of the twentieth century's most important writers. I was profoundly moved by this privileged glimpse at Tennessee Williams' life and mind."—Ron Carlson, Director of Creative Writing, University of California at Irvine
— Ron Carlson
"The Notebooks take us on a harrowing journey, and we come to know Williams the person very intimately, in the way he quite pitilessly knew himself. Reading them is like reading Van Gogh's letters or the diary of Nijinsky: the art arises from great pain that elicits pity and terror for the artist and lets us understand the uniqueness of his creations more subtly and intuitively."—Brian Parker, Professor Emeritus, University of Toronto

— Brian Parker
Yale University Press, 9780300116823, 856pp.
Publication Date: January 30, 2007
About the Author
Margaret Bradham Thornton is a writer and independent scholar based in Bedminster, New Jersey.
or
Not Currently Available for Direct Purchase