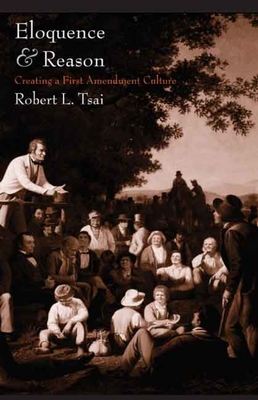 Eloquence and Reason
Creating a First Amendment Culture
Hardcover

* Individual store prices may vary.
Description
This provocative book presents a theory of the First Amendment's development. During the twentieth century, Americans gained trust in its commitments, turned the First Amendment into an instrument for social progress, and exercised their rhetorical freedom to create a common language of rights.
Robert L. Tsai explains that the guarantees of the First Amendment have become part of a governing culture and nationwide priority. Examining the rhetorical tactics of activists, presidents, and lawyers, he illustrates how committed citizens seek to promote or destabilize a convergence in constitutional ideas. Eloquence and Reason reveals the social and institutional processes through which foundational ideas are generated and defends a cultural role for the courts.
Praise For Eloquence and Reason: Creating a First Amendment Culture…
"Just when I thought that there was nothing new to say about the First Amendment, Robert Tsai comes along and writes a book which encourages me to think again."—Bruce Ackerman, Sterling Professor of Law and Political Science, Yale University
— Bruce Ackerman
"A provocative meditation on the ways the metaphors used in constitutional doctrine empower, limit, create, and recreate the public over which the written Constitution is said to assert authority. Intriguing case studies arise from the civil rights movement of the 1960s, the Christian Right of the 1980s, and the attacks on Jehovah's Witnesses in the 1940s."—Mark V. Tushnet, William Nelson Cromwell Professor of Law, Harvard Law School, and author of The NAACP's Legal Strategy Against Segregated Education, 1925-1950
— Mark V. Tushnet
"Tsai's exciting work on the interplay between the Supreme Court and the executive branch in the nineteen forties sheds new light on the origins of modern constitutional law. And his new account of the relationship between language and power in political discourse is sure to be controversial and should be widely read."—H. Jefferson Powell, Duke Law School
— H. Jefferson Powell
"This beautifully written, carefully argued, and thought-provoking book illuminates the way the practice of free speech and broad societal engagement with constitutional ideas animate American democracy."—Mary L. Dudziak, University of Southern California, and author of Exporting American Dreams: Thurgood Marshall's African Journey
— Mary L. Dudziak
"This book, with its illuminating emphasis on rhetoric and metaphor, is of great value for lawyers, for all who study the law, and for ordinary people as they construct and employ arguments about our fundamental rights."--Michael Kent Curtis,
Northwestern University Law Review

— Michael Kent Curtis
"[A] provocative and eloquent book."--
Perspectives on Politics

— Perspectives on Politics
Yale University Press, 9780300117233, 216pp.
Publication Date: December 2, 2008
About the Author
Robert L. Tsai is associate professor of law at American University, Washington College of Law. He lives in Eugene, OR, and Washington, D.C.