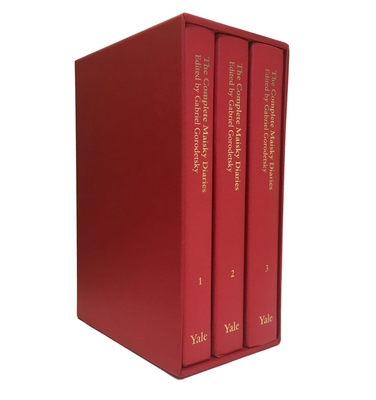 The Complete Maisky Diaries
Volumes 1-3 (Annals of Communism Series)
Hardcover

* Individual store prices may vary.
Description
The complete diaries that Ivan Maisky, Soviet ambassador to London, kept between 1932 and 1943
Confiscated by Soviet authorities in the 1950s, the diaries of Ivan Maisky, the USSR's ambassador to Great Britain from 1932 to 1943, have been unearthed, annotated, and edited for publication in a three-volume set that Niall Ferguson predicts "will stand as one of the great achievements of twenty-first century historical scholarship." Maisky's revelations illuminate Soviet foreign policy in the years prior to and during World War II, providing fascinating perspectives on London's political life and climate, key figures and events, and the Kremlin rivalries that influenced Soviet policy.
Volume 1: The Rise of Hitler and the Gathering Clouds of War, 1932–1938
Volume 2: The Ribbentrop-Molotov Pact and the Battle of Britain, 1939–1940
Volume 3: The German Invasion of Russia and the Forging of the Grand Alliance, 1941–19
Praise For The Complete Maisky Diaries: Volumes 1-3 (Annals of Communism Series)…
"Gabriel Gorodetsky's edition [of the diaries] — abridged and unabridged — is a work for the ages."—Niall Ferguson, The New York Times Book Review, "By the Book" column

Praise for The Maisky Diaries (abridged edition):
"Deftly edited by Gabriel Gorodetsky . . . This is a must read for aficionados of diplomatic history and especially of interwar British high society."—Stephen Kotkin, The Wall Street Journal

"Ivan Maisky was an amazing diplomat by anyone's standards, and it turns out that he was an amazing diarist as well . . . . The diaries give readers a chance to meet a significant figure from this period who eschewed leaden Soviets peak and candidly shared his doubts, convictions, fears, hopes, and frailties with honesty and clarity."—Foreign Affairs

"Superbly edited . . . and exceptionally vivid."—Michael Ignatieff, The New York Review of Books

"This magnificently absorbing and expertly edited volume furnishes an invaluable glimpse into Soviet and British diplomacy."—Jacob Heilbrunn, The National Interest

"The diary provides a valuable — and highly readable — insight into the Soviet view of events leading up to World War II."—Joseph Goulden, The Washington Times
"The forthcoming publication of the complete diaries of Ivan Maisky will provide scholars of prewar and World War II diplomacy with an invaluable primary source. Meanwhile, the present abridgement, with its many reproductions of photos from Maisky's personal albums, beautifully fulfills a primary goal of the publisher and editor to make Maisky's observations and insights . . . accompanied by Gabriel Gorodetsky's skilled contextualizing of them."—Walter G. Moss, Michigan War Studies Review

"The astonishing emergence of Maisky's diaries is like something from the pages of Gogol or Doestoevsky – real life Notes From the Underground. Roll on the complete edition – and bravo Gorodetsky and Yale University Press."—Robert Carver, The Tablet

"The Maisky Diaries is an invaluable resource for professional historians and general readers alike. It will provide particular insights for those interested in Soviet diplomacy, in the mindset of the Soviet leadership, and in British politics, society, and foreign policy on the eve of the Second World War."—Russian Review

"Gorodetsky compares Maisky's diaries to Pepys's in their astute observations of the British political and social scene, spiced with anecdotes and gossip. . . . The detailed and lively reports in Maisky's diaries of his many meetings with Churchill are particularly valuable."—Sheila Fitzpatrick, London Review of Books

"Maisky was…clever, cultured, an exceptionally shrewd observer of Britain during his 11 years as ambassador in London from 1932… Maisky's diaries make a significant new contribution to the historiography of his time, for which their editor deserves congratulations."—Max Hastings, Sunday Times

"Yale University Press plans a complete, three-volume edition of Maisky's diaries, with extensive commentary by Gorodetsky. This selection, contacting about a quarter of Maisky's entries, is a truly delicious first course."—Tony Barber, Financial Times

"Maisky's wonderful diary offers refreshing insights into the turbulent 1930s . . . Sparkled amid his fascinating observations of momentous developments is some delightful gossip, to which Maisky was addicted . . . Maisky's painful reflections on the British character remind one of Samuel Pepys or Dr. Johnson."—Gerard DeGroot, The Times

"These diaries throw new light from a fresh angle on the lead up to 1939 and the subsequent course of the war . . . this is an exceptionally readable, as well as important, story."—John Joliffe, Sp

Yale University Press, 9780300117820, 1664pp.
Publication Date: November 28, 2017
About the Author
Gabriel Gorodetsky is a Quondam Fellow of All Souls College, University of Oxford, and emeritus professor of history at Tel Aviv University. He is the author of Grand Delusion: Stalin and the German Invasion of Russia.
or
Not Currently Available for Direct Purchase