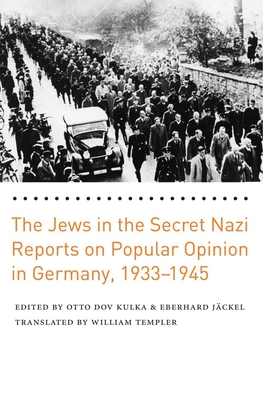 The Jews in the Secret Nazi Reports on Popular Opinion in Germany, 1933-1945 (Hardcover)
Yale University Press, 9780300118032, 1064pp.
Publication Date: November 2, 2010
* Individual store prices may vary.
Description
Presented for the first time in English, the huge archive of secret Nazi reports reveals what life was like for German Jews and the extent to which the German population supported their social exclusion and the measures that led to their annihilation.
About the Author
Otto Dov Kulka is Rosenbloom Professor Emeritus of Jewish History, the Hebrew University of Jerusalem. Eberhard Jäckel is Professor Emeritus of History, University of Stuttgart.
Praise For The Jews in the Secret Nazi Reports on Popular Opinion in Germany, 1933-1945…
"The documentary material, ordered and presented in a superb manner, constitutes a first-class collection of lasting value. An outstanding scholarly achievement."—Ian Kershaw, author of Hitler: A Biography and Hitler, the Germans and the Final Solution
— Ian Kershaw
"This work touches on all aspects of the history of the Jews in Nazi Germany. It will be of inestimable value for every historian of the Third Reich. A rare scholarly achievement."—Saul Friedländer, author of Nazi Germany and the Jews: The Years of Persecution 1933-1939; The Years of Extermination 1939-1945
— Saul Friedländer
"This collection of secret reports on German popular opinion in the Nazi period, edited with great accuracy and care, provides and impressive picture of the persecution of the Jews and the reaction of the German population. Indispensable for future Holocaust research."—Peter Longerich, author of Holocaust: The Nazi Persecution and Murder of the Jews
— Peter Longerich
"A magisterial work of scholarship. The volume offers both scholars and the broader interested public a unique corpus of original documents."—Michael Wildt, author of An Uncompromising Generation: The Nazi Leadership of the Reich Security Service
— Michael Wildt
"This well-selected and edited collection of documents provides invaluable documentation on the basis of the reports of the Nazi apparatus of coercion and the Nazi Party and its offshoots on the reaction of the population of Germany to the persecution and mass murder of the Jews."—Antony Polonsky, Brandeis University
— Antony Polonsky
"Extremely revealing."—Sheldon Kirshner, The Canadian Jewish News
— Sheldon Kirshner
Selected as a Choice Outstanding Academic Title for 2011 in the Social and Behavioral Sciences category.
— Choice Outstanding Academic Title
or
Not Currently Available for Direct Purchase