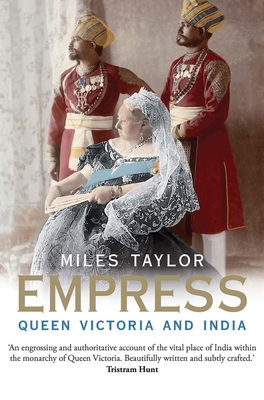 Empress (Hardcover)
Queen Victoria and India
Yale University Press, 9780300118094, 408pp.
Publication Date: October 2, 2018
* Individual store prices may vary.
Description
An entirely original account of Victoria's relationship with the Raj, which shows how India was central to the Victorian monarchy from as early as 1837

In this engaging and controversial book, Miles Taylor shows how both Victoria and Albert were spellbound by India, and argues that the Queen was humanely, intelligently, and passionately involved with the country throughout her reign and not just in the last decades. Taylor also reveals the way in which Victoria's influence as empress contributed significantly to India's modernization, both political and economic. This is, in a number of respects, a fresh account of imperial rule in India, suggesting that it was one of Victoria's successes.
About the Author
Miles Taylor is professor of modern history at the University of York. Between 2008 and 2014 he was director of the Institute of Historical Research.
Praise For Empress: Queen Victoria and India…
"In Empress Taylor recovers the forgotten significance of Victoria to the history of British India. He shows how the Queen's enthusiasm for India and its princes facilitated the crown's emergence as an appealing symbol and potential resource in the search for civil and political rights. This is a nuanced portrait of an empire rich in contradiction."—Catherine Hall, author of Civilising Subjects
"An engrossing and authoritative account of the vital place of India within the monarchy of Queen Victoria. Beautifully written and subtly crafted, this book provides a critical history of the cultural, political, and diplomatic significance of Queen Victoria's role as Empress of India - and its rich and varied impact in metropole and colony. An important work for those interested in more nuanced readings of Empire and their legacies today."—Tristram Hunt, Director of Victoria and Albert Museum
"This is a highly intelligent, wonderfully lucid and well researched book that rests on an impressive array of Indian as well as European sources. It makes a powerful case for re-assessing Queen Victoria's own role and political and religious ideas in regard to the subcontinent, and for the need to look again at how she - and monarchy in general - were perceived, re-imagined, and utilized by different varieties of her Indian "subjects" before the First World War."—Linda Colley, author of Britons