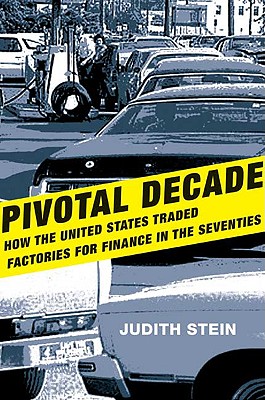 Pivotal Decade (Hardcover)
How the United States Traded Factories for Finance in the Seventies
Yale University Press, 9780300118186, 384pp.
Publication Date: May 1, 2010
Other Editions of This Title:
Paperback (9/13/2011)
MP3 CD (7/26/2016)
* Individual store prices may vary.
Description
In this fascinating new history, Judith Stein argues that in order to understand our current economic crisis we need to look back to the 1970s and the end of the age of the factory the era of postwar liberalism, created by the New Deal, whose practices, high wages, and regulated capital produced both robust economic growth and greater income equality. When high oil prices and economic competition from Japan and Germany battered the American economy, new policies both international and domestic became necessary. But war was waged against inflation, rather than against unemployment, and the government promoted a balanced budget instead of growth. This, says Stein, marked the beginning of the age of finance and subsequent deregulation, free trade, low taxation, and weak unions that has fostered inequality and now the worst recession in sixty years.
Drawing on extensive archival research and covering the economic, intellectual, political, and labor history of the decade, Stein provides a wealth of information on the 1970s. She also shows that to restore prosperity today, America needs a new model: more factories and fewer financial houses.
About the Author
Judith Stein is professor of history at the City College and Graduate Center of the City University of New York. She is the author of The World of Marcus Garvey and Running Steel, Running America.
Praise For Pivotal Decade: How the United States Traded Factories for Finance in the Seventies…
"A highly original illumination of how the American Century collapsed."—Rick Perlstein, The Nation
-Rick Perlstein

"[An] elegant, pinpoint dissection of the economic mistakes and far-reaching policy decisions of the seventies."—Oscar Villalon, Virginia Quarterly Review
-Oscar Villalon

"Here is one of those rare books in which a seasoned historian offers compelling analyses of urgent contemporary importance. Pivotal Decade will startle and provoke you. It is on my not-miss list."—Sean Wilentz, Princeton University
-Sean Wilentz

"In this probing, economically literate analysis, Judith Stein explains how and why the 1970s became the only 20th century decade other than that of the Great Depression during which Americans ended up poorer than they began. By explaining how we got to an economy that subordinates the manufacture of stuff to one that trades, finances, and consumes it, Stein provides the fullest story of the way economic stagnation prepared the way for a new era of social inequality. Citizens of Obama''s America should take note."—Nelson Lichtenstein, author of The Retail Revolution: How Wal-mart Created a Brave New World of Business
-Nelson Lichtenstein

"Americans perplexed by the use of defective Chinese steel to rebuild the iconic San Francisco Bay Bridge will find an explanation for their puzzlement in Judith Stein''s Pivotal Decade: How the United States Traded Factories for Finance in the Seventies. Bringing together political and economic history in the context of American foreign policy, Stein shows how Americans allowed the allure of paper profits to undermine our economic underpinnings."—Fred Siegel, The Cooper Union for Science and Art
-Fred Siegel

"Judith Stein gets it. Pivotal Decade''s illustration and examination of the last forty years of failed economic policy will be a powerful text for our generation as well as for the future. We must learn these lessons once and for all—before it''s too late."—Leo W. Gerard, president, United Steelworkers
-Leo W. Gerard

"An extraordinary achievement."—The Journal of American History

"Pivotal Decade is an important explanation of how liberal became a dirty word and how conservative views came to dominate American political life for so long."—Eric Foner, TheBrowser.com
-Eric Foner

"Stein succeeds not only in making the 1970s much more interesting to read about, but in revealing the decade as the great historical pivot from postwar American boom to bust."—David Chappell, Journal of the Historical Society
-David Chappell

"Stein''s book is full of fine-grained arguments about economics, labor, and history."—Josh Rothman, The Boston Globe

"This book should be required reading for anyone seeking to understand how the economic restructuring of the 1970s led to our current age of inequality. It is a masterful study of the history of capitalism that is driven not by ideology but by a clearheaded interpretation of historical events and patterns."—Shane Hamilton, Industrial and Labor Relations Review
-Shane Hamilton
or
Not Currently Available for Direct Purchase