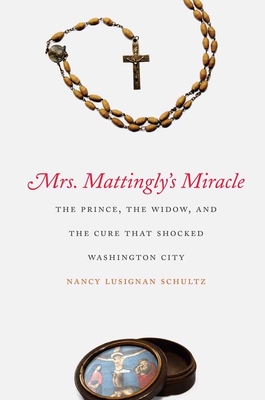 Mrs. Mattingly's Miracle
The Prince, the Widow, and the Cure That Shocked Washington City
Hardcover

* Individual store prices may vary.
Other Editions of This Title:
Paperback (2/25/2014)
Description
In 1824 in Washington, D.C., Ann Mattingly, widowed sister of the city's mayor, was miraculously cured of a ravaging cancer. Just days, or perhaps even hours, from her predicted demise, she arose from her sickbed free from agonizing pain and able to enjoy an additional thirty-one years of life. The Mattingly miracle purportedly came through the intervention of a charismatic German cleric, Prince Alexander Hohenlohe, who was credited already with hundreds of cures across Europe and Great Britain. Though nearly forgotten today, Mattingly's astonishing healing became a polarizing event. It heralded a rising tide of anti-Catholicism in the United States that would culminate in violence over the next two decades.
Nancy L. Schultz deftly weaves analysis of this episode in American social and religious history together with the astonishing personal stories of both Ann Mattingly and the healer Prince Hohenlohe, around whom a cult was arising in Europe. Schultz's riveting book brings to light an early episode in the ongoing battle between faith and reason in the United States.
Praise For Mrs. Mattingly's Miracle: The Prince, the Widow, and the Cure That Shocked Washington City…
"Nancy Schultz has written a fascinating narrative highlighting the historical, religious and social dimensions of miraculous cures of Ann Mattingly. This is a first-rate original work of sound scholarship."—Christopher Kauffman, Catholic University of America
— Christopher Kauffman
"Schultz's work to track down information about the key figures, previous events and subsequent experience is remarkable. She tells the full story, with 'thick description' of the 'Capital Miracles'."—David O'Brien, Holy Cross
— David O'Brien
"Mrs. Mattingly's Miracle uses terrific archival work and shrewd analysis to firmly anchor a remarkable episode in American religious history in a transatlantic context."— John T. McGreevy, University of Notre Dame
— John T. McGreevy
"Nancy Schultz has produced another extraordinary work of historical recovery, bringing vividly to life a cast of characters that could easily populate a major motion picture even as they reveal hitherto neglected aspects of nineteenth-century social, religious, and intellectual history. The provocative questions raised by Mrs. Mattingly's Miracle will linger, satisfyingly, with readers long after they've reached its unusual conclusion."—Megan Marshall, author of The Peabody Sisters: Three Women Who Ignited American Romanticism, winner of the Francis Parkman Prize
— Megan Marshall
"An entertaining and meticulously-researched study of one of the first accounts of miraculous healing in the young United States. Schultz illuminates every possible angle of the Mattingly story, thereby enriching American and Catholic history immeasurably."— Paula Kane, University of Pittsburgh
— Paula Kane
"At a time when academic historians seem to be committed to prose that is deadly dull, Nancy Lusignan Schultz, a professor of English, lets the story emerge as a good yarn, not a big yawn. . . . [she] brings an impressive depth of scholarship to this odd, forgotten chapter of America's early social history. . . . The result is a gripping slice of history with fresh, often unsettling resonances for the modern reader."—Daniel Stashower, The Washington Post
— Daniel Stashower


"Nancy Lusignan Schultz . . . has resurrected important aspects of Catholic life in the history of the United States for a new generation."—Our Sunday Visitor
— Our Sunday Visitor


"Nancy Lusignan Schultz . . . succeeds at infusing Washington's ragtag days with an aura of supernatural intrigue."—Washingtonian
— Washingtonian


"[Schultz] deftly weaves the story within the context of the social and religious issues confronting the early 19th-century American Catholic Church. . . . Mrs. Mattingly's Miracle provides the reader an invaluable insight into early American Catholicism."—America Magazine
— America Magazine

"A delightful and vibrant telling of a mysterious historical event that [Schultz] delicately excavates from the sands of time. . . . Schultz is both a captivating storyteller and a meticulous historical researcher."—C. Christopher Smith, Books and Culture
— C. Christopher Smith
Yale University Press, 9780300118469, 288pp.
Publication Date: April 26, 2011
About the Author
Nancy Lusignan Schultz is professor of English, Salem State University, Salem, MA.
or
Not Currently Available for Direct Purchase