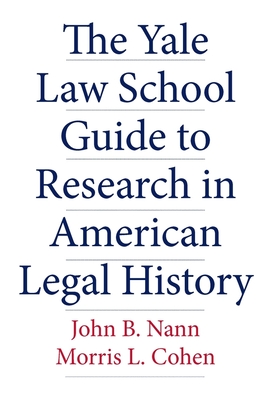 The Yale Law School Guide to Research in American Legal History (Yale Law Library Series in Legal History and Reference) (Paperback)
Yale University Press, 9780300118537, 368pp.
Publication Date: June 19, 2018
* Individual store prices may vary.
Description
The study of legal history has a broad application that extends well beyond the interests of legal historians. An attorney arguing a case today may need to cite cases that are decades or even centuries old, and historians studying political or cultural history often encounter legal issues that affect their main subjects. Both groups need to understand the laws and legal practices of past eras. This essential reference is intended for the many nonspecialists who need to enter this arcane and often tricky area of research.
About the Author
John B. Nann is senior librarian for reference, instruction, and collection services, and lecturer in legal research, Lillian Goldman Law Library, Yale Law School. The late Morris L. Cohen was law librarian and professor of law at Yale, Harvard, Penn, and SUNY-Buffalo law schools.