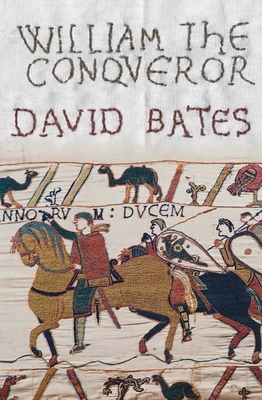 William the Conqueror (The English Monarchs Series) (Hardcover)
Yale University Press, 9780300118759, 616pp.
Publication Date: January 10, 2017
Other Editions of This Title:
Paperback (6/26/2018)
Paperback (1/1/2004)
* Individual store prices may vary.
Description
Fifteen years in the making, a landmark reinterpretation of the life of a pivotal figure in British and European history

In this magisterial addition to the Yale English Monarchs series, David Bates combines biography and a multidisciplinary approach to examine the life of a major figure in British and European history. Using a framework derived from studies of early medieval kingship, he assesses each phase of William's life to establish why so many trusted William to invade England in 1066 and the consequences of this on the history of the so-called Norman Conquest after the Battle of Hastings and for generations to come.
 
A leading historian of the period, Bates is notable for having worked extensively in the archives of northern France and discovered many eleventh- and twelfth-century charters largely unnoticed by English-language scholars. Taking an innovative approach, he argues for a move away from old perceptions and controversies associated with William's life and the Norman Conquest. This deeply researched volume is the scholarly biography for our generation.
About the Author
David Bates is professorial fellow, University of East Anglia. His books include Normandy Before 1066 and The Normans and Empire. He lives in Cambridge, UK.
Praise For William the Conqueror (The English Monarchs Series)…
"This is serious, definitive history, essential for undergraduates and academics. . . . Bates gets as close to the subject as any medieval biographer could wish."—Dan Jones, Sunday Times
"Bates has devoted a lifetime of learning to William the Conqueror and his age. In this definitive biography of the man who forever changed England with hisinvasion of 1066, Bates contends that a full understanding of William's place in history requires locating him in a longer period."—Tony Barber, "Best books of 2016," Financial Times
"The best ever biography of the ruthless Norman bastard — masterly and exciting, but always measured and scholarly."—Simon Sebag Montefiore, The Week, 22nd July 2017
"A coherent, consistent and complete portrait by a single master. . . This book is a monument to Bates's knowledge of William, his career and his times. It has significantly advanced our understanding of this imposing figure, and it will, and should, be the point of departure for future discussions of the reign."—Mark Hagger, English Historical Review
"[A] monumental study . . . a joy to read, consistently illuminating."—S. Morillo, Choice
"An authoritative and engrossing account. . . This biography is a work of history in its fullest form. Bates has written gripping narratives of battle, moving accounts of pathos and suffering, thoughtful analyses of William's allies, opponents, friends and comrades, and two love stories—all the more remarkable because they are true."—Emily A. Winkler, Speculum
Won the 2017 Choice Award for Outstanding Academic Title
"David Bates's biography of William the Conqueror is a worthy culmination of a lifetime's study of one of England's greatest and in many ways most complex kings. Despite the 950 years which now lie between us and William's remarkable victory at Hastings, Bates conjures up the man in all his strengths, weaknesses and passions, and proves that there is still much new to learn about this man who changed the course of the histories of England, Britain and France."—David Crouch, author of The English Aristocracy, 1070–1272
"This book tells of William the Conqueror as never before. David Bates recognizes a distinguished predecessor, yet where D.C. Douglas wrote from the outside in, Bates writes from the inside out to show how the biography of Duke-King William is what illuminates Normandy and England at a critical time in their histories. Bates writes with surpassing command of the sources to bring out the problematic contexts of challenges facing the Conqueror throughout his life. He shows that William's legacy of achievement and brutality was as troubling to the writers who knew or remembered him as it is for us. Moreover, the deployment of a vast new secondary literature renders this book virtually a tribute to the burgeoning Anglo-Norman field of research that it occupies. Bates' William the Conqueror is a monumental accomplishment."—Thomas N. Bisson, author of The Crisis of the Twelfth Century: Power, Lordship, and the Origins of European Government
or
Not Currently Available for Direct Purchase