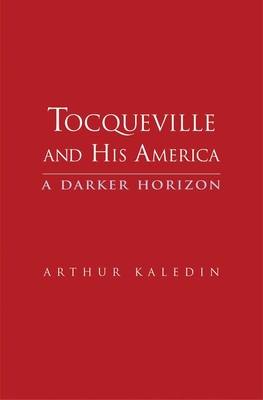 Tocqueville and His America
A Darker Horizon
Hardcover

* Individual store prices may vary.
Description
Arthur Kaledin's groundbreaking book on Alexis de Tocqueville offers an original combination of biography, character study, and wide-ranging analysis of Tocqueville's Democracy in America, bringing new light to that classic work. The author examines the relation between Tocqueville's complicated inner life, his self-imagination, and his moral thought, and the meaning of his enduring writings, leading to a new understanding of Tocqueville's view of democratic culture and democratic politics. With particular emphasis on Tocqueville's prescient anticipation of various threats to liberty, social unity, and truly democratic politics in America posed by aspects of democratic culture, Kaledin underscores the continuing pertinence of Tocqueville's thought in our own changing world of the twenty-first century.
Praise For Tocqueville and His America: A Darker Horizon…
"Kaledin teases out the ambiguities and complexities of Tocqueville's life with astonishing perspicuity, offering a subtle and complex analysis of the aristocrat turned explorer turned writer turned politician. Tocqueville and His America is a strikingly original contribution to our understanding of one of the most important European thinkers of the nineteenth century."—Stanley Katz, Princeton University
— Stanley Katz
"Tocqueville and His America is a very subtle, complex work, and its scope is enormous. Kaledin carries the reader forward with energy and clarity… A remarkable, fascinating, and original book."—James T. Schleifer, author of The Making of Tocqueville's Democracy in America
— James T. Schleifer
"Nuanced . . . exceptional . . . will be read with great interest by all students of Tocqueville and by many who can learn from him if they care about America's future."—David Keymer, Library Journal
— David Keymer
Yale University Press, 9780300119312, 440pp.
Publication Date: August 23, 2011
About the Author
Arthur Kaledin is professor of history emeritus at the Massachusetts Institute of Technology. He lives in Cambridge, MA.
or
Not Currently Available for Direct Purchase