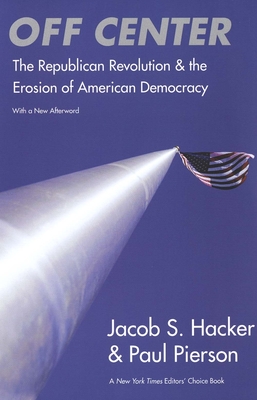 Off Center (Paperback)
The Republican Revolution and the Erosion of American Democracy; With a new Afterword
Yale University Press, 9780300119756, 288pp.
Publication Date: September 26, 2006
* Individual store prices may vary.
Description
A timely investigation of the most innovative recent urban housing constructions

The Republicans who run American government today have defied the normal laws of political gravity. They have ruled with the slimmest of majorities and yet have transformed the nation's governing priorities. They have strayed dramatically from the moderate middle of public opinion and yet have faced little public backlash. Again and again, they have sided with the affluent and ideologically extreme while paying little heed to the broad majority of Americans. And much more often than not, they have come out on top. This book shows why—and why this troubling state of affairs can and must be changed.

Written in a highly accessible style by two professional political scientists, Off Center tells the story of a deliberative process restricted and distorted by party chieftains, of unresponsive power brokers subverting the popular will, and of legislation written by and for powerful interests and deliberately designed to mute popular discontent. In the best tradition of engaged social science, Off Center is a powerful and informed critique that points the way toward a stronger foundation for American democracy.
About the Author
Jacob S. Hacker is Peter Strauss Family Associate Professor of Political Science, Yale University. PAUL PIERSON is professor of political science (Avice Saint Chair in Public Policy), University of California, Berkeley.
or
Not Currently Available for Direct Purchase