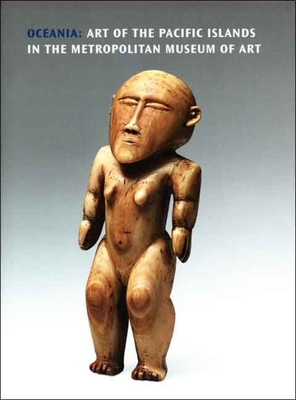 Oceania (Hardcover)
Art of the Pacific Islands in The Metropolitan Museum of Art
Metropolitan Museum of Art, 9780300120301, 368pp.
Publication Date: December 3, 2007
* Individual store prices may vary.
Description
In aesthetic quality, significance, and scope, the Metropolitan Museum's Oceanic, or Pacific Islands, collection is one of the finest and most comprehensive in the world. This generously illustrated volume features some 200 masterworks from the more than 2,600 objects currently in the collection, and it is published to coincide with the opening of the Museum's new galleries of Oceanic art.
An overview of Oceanic art and a history of the Metropolitan's collection are followed by detailed chapters devoted to each of the five major cultural regions of the Pacific: Australia, Melanesia, Micronesia, Polynesia, and the islands of Southeast Asia. Among the notable works discussed are a monumental Baining barkcloth figure, a spectacular shield from the Solomon Islands, the Museum's renowned Torres Strait mask and acclaimed Mangarevan wooden male figure, a weather charm from the Caroline Islands, and textiles from the regions of Lampung and Sumba, in Sumatra. A glossary and selected bibliography conclude this essential guide.
About the Author
Eric Kjellgren is Evelyn A. J. Hall and John A. Friede Associate Curator for Oceanic Art, Department of the Arts of Africa, Oceania, and the Americas, The Metropolitan Museum of Art. He is the principal author of Adorning the World: Art of the Marquesas Islands (MMA/Yale, 2005) and of Splendid Isolation: Art of Easter Island (MMA/Yale, 2001).
Praise For Oceania: Art of the Pacific Islands in The Metropolitan Museum of Art…
"Documents the history of one of the most important collections of Oceanic art in the United States. . . . The catalogue would serve nicely as a teaching tool."—Jennifer Wagelie, Aotearoa Quarterly
— Jennifer Wagelie
 " [Oceania] is an exploration of the great variety of Pacific culture, and reflects the authors' authority on the subject and their long standing engagement with the Islander communities." -- British Museum Magazine
— British Museum Magazine
 "A two-brick book weighty enough to smash the mould of Oceanic art studies. Stretching from ancient pots to urban graffiti, it investigates migrations, wars, colonial style, tourist items and contemporary art. Chapter are scholarly, but accessible, the photos stunning, the layout impeccable. A feast of a tome." -- Jeremy MacClancy, Times Higher Education.
— Jeremy MacClancy
 "Extraordinary....Pinpointing an incredibly variety of Pacific cultures, from the Highlands of New Guinea to settlements in New Zealand, the sheer magnitude of knowledge to which this book extends far surpasses any studied conducted previously." -- Fiona Martin, Aesthetica.
— Fiona Martin
 "A magnificent work of scholarship, a monumental achievement in publishing, and a brilliant contribution to the rapidly expanding field of non-western art history. . . . This handsome book will be the standard, the indispensable reference on the indigenous art history of the region." - Jonathan Mane-Wheoki, Art New Zealand.
— Jonathan Mane-Wheoki
or
Not Currently Available for Direct Purchase