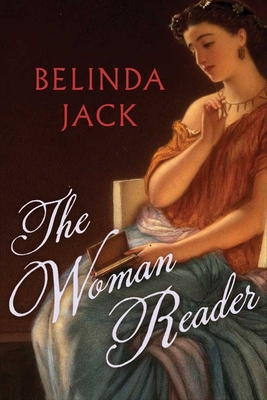 The Woman Reader
Hardcover

* Individual store prices may vary.
Other Editions of This Title:
Paperback (9/24/2013)
Description
How have women read differently from men through the ages? In all manner of ways, this book asserts.

This lively story has never been told before: the complete history of women's reading and the ceaseless controversies it has inspired. Belinda Jack's groundbreaking volume travels from the Cro-Magnon cave to the digital bookstores of our time, exploring what and how women of widely differing cultures have read through the ages.
Jack traces a history marked by persistent efforts to prevent women from gaining literacy or reading what they wished. She also recounts the counter-efforts of those who have battled for girls' access to books and education. The book introduces frustrated female readers of many eras—Babylonian princesses who called for women's voices to be heard, rebellious nuns who wanted to share their writings with others, confidantes who challenged Reformation theologians' writings, nineteenth-century New England mill girls who risked their jobs to smuggle novels into the workplace, and women volunteers who taught literacy to women and children on convict ships bound for Australia.
Today, new distinctions between male and female readers have emerged, and Jack explores such contemporary topics as burgeoning women's reading groups, differences in men and women's reading tastes, censorship of women's on-line reading in countries like Iran, the continuing struggle for girls' literacy in many poorer places, and the impact of women readers in their new status as significant movers in the world of reading.
Praise For The Woman Reader…
"Engaging, lively and vigorous.
The Woman Reader
is a landmark work that no feminist—or for that matter, general reader—should miss."—Naomi Wolf, author of
The Beauty Myth
— Naomi Wolf
"An utterly gripping history of women and reading, brilliantly conceived and told depth and detail for the first time. Belinda Jack's remarkable book is destined to be a landmark in its field."—Claire Harman, author of
Jane's Fame: How Jane Austen Conquered the World
— Claire Harman
"A lively and erudite history of the many and ingenious covers thrown over women's minds to keep us in the dark, Jack's absorbing story describes and deconstructs the endlessly remade cover versions that men (mostly) have told to women, and to themselves, about the reasons why books and women should be kept apart."—Jeanette Winterson, Times of London
— Jeanette Winterson
Selected as a
Choice
Outstanding Academic 2012 Title for Social and Behavioral Sciences within the Reference category.
— Outstanding Academic Title
Yale University Press, 9780300120455, 344pp.
Publication Date: July 17, 2012
About the Author

Belinda Jack is tutorial Fellow in French, Christ Church, University of Oxford. She is the author of George Sand: A Woman's Life Writ Large and Beatrice's Spell. She lives in Oxford, UK.
or
Not Currently Available for Direct Purchase