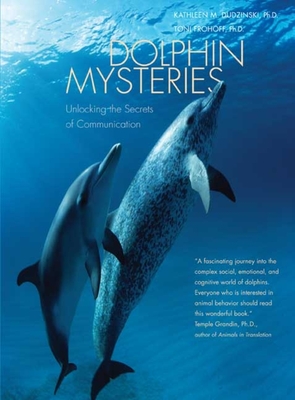 Dolphin Mysteries
Unlocking the Secrets of Communication
Paperback

* Individual store prices may vary.
Other Editions of This Title:
Hardcover (9/1/2008)
Description
Exciting new technologies and research methods help scientists unravel the mysteries of dolphin communication, intelligence, and culture

Dolphins have fascinated humans for millennia, giving rise to an abundance of stories and myths about them, yet the actual details of their lives in the sea have remained elusive. In this enthralling book, Kathleen M. Dudzinski and Toni Frohoff take us into the dolphins' aquatic world to witness firsthand how they live their lives, communicate, and interact with one another and with other species, including people.
Kathleen M. Dudzinski and Toni Frohoff are scientists who have collectively dedicated more than 40 years to studying dolphins beneath the ocean's surface, frequently through a close-up underwater lens. Drawing on their own experiences and on up-to-the-minute research, the authors show that dolphins are decidedly not just members of a group but distinct individuals, able to communicate with one another and with humans. Dudzinski and Frohoff introduce a new way of looking at, and listening to, the vocabulary of dolphins in the sea, and they even provide an introductory "dolphin dictionary," listing complex social signals that dolphins use to share information among themselves and with people. Unveiling an intimate and scientifically accurate portrait of dolphins, this book will appeal to everyone who has wanted a closer glimpse into the hearts and minds of these amazing creatures.
Yale University Press, 9780300121148, 256pp.
Publication Date: March 16, 2010
About the Author
Kathleen M. Dudzinski, Ph.D., is director of the Dolphin Communication Project and co-editor of the journal Aquatic Mammals. She serves on the adjunct faculties of the University of Southern Mississippi, Alaska Pacific University, and the University of Rhode Island. She lives in Stonington, CT. For more info about the author and the book click <a href='http://kathleendudzinski.com/'>here</a>.<br>
Toni Frohoff, Ph.D., is Executive Director of <a href='http://web.mac.com/moondawgs/TERRAMAR/HOME.html'>TerraMar Research</a>, research director of the Whale Stewardship Project, and a Faculty Affiliate for the Kerulos Centre. She is the co-editor of Between Species: Celebrating the Dolphin-Human Bond. She lives in Seattle, WA. For more information about Dr. Frohoff click <a href='http://web.mac.com/moondawgs/TERRAMAR/ABOUT_TONI_FROHOFF.html'>here</a>.
or
Not Currently Available for Direct Purchase