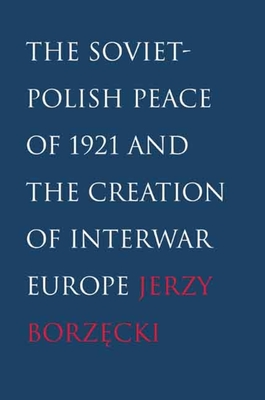 The Soviet-Polish Peace of 1921 and the Creation of Interwar Europe (Hardcover)
Yale University Press, 9780300121216, 418pp.
Publication Date: April 1, 2008
* Individual store prices may vary.
Description
The Soviet-Polish peace treaty of 1921, also known as the "Riga peace," ended the war of 1919–1920 and may be considered the most important Eastern European treaty of the interwar period. This deeply researched book offers the first post-Soviet account of how Bolshevik Russia and Poland came to sign the treaty—a pact that established the central part of the Soviet western border and provided Eastern Europe with a measure of stability that lasted until 1939.
Jerzy Borzecki draws on a wealth of untapped materials in Russian and Polish archives to recreate the negotiations and behind-the-scenes maneuvers leading to and surrounding the treaty. He examines the significance of the agreement not only to its signatories but also to Ukraine, Belarus, Lithuania, and Latvia. The Riga peace represented an authentic compromise between Poland and Bolshevik Russia, Borzecki shows, and he offers new interpretations of other crucial aspects of the negotiations as well.
About the Author
Jerzy Borzecki has recently completed his postdoctoral studies in the History Department at Yale University. He is a sessional lecturer in the Department of Historical Studies at the University of Toronto at Mississauga.
Praise For The Soviet-Polish Peace of 1921 and the Creation of Interwar Europe…
"Borzecki brings tremendous new archival materials to bear on the treaty reached at Riga—an important moment in the history of European diplomacy and state-making following World War I. "—Mark L. von Hagen, Arizona State University; author of Soldiers in the Proletarian Dictatorship: The Red Army and the Soviet Socialist State
— Mark L. von Hagen
"Jerzy Borzecki delves expertly into the Polish-Russian Borderlands in the immediate post-World War I years—perhaps the most fascinatingly complex place and moment in 20th century Europe. The research is new and the amount of detail is stunning."—Marci Shore, author of Caviar and Ashes
— Marci Shore
"This book is a major contribution to the scholarly literature on the Soviet Union. Despite a range of publications in Russian, Polish, Ukrainian, and English, there has heretofore been no single work that exploited all of the available sources, including newly-available Russian archival sources. It is a scholarly work with an original and important subject, treated with exemplary research and balanced and convincing narrative analysis."—Timothy Snyder, author of The Reconstruction of Nations: Poland, Ukraine, Lithuania, Belarus, 1569-1999
— Timothy Snyder
"With subtlety, Borzecki conveys the ambivalence of the period and foreshadows the diplomatic wrangling between the Communist and non-Communist worlds that defined the Cold War. . . . Highly recommended."—Choice
— Choice