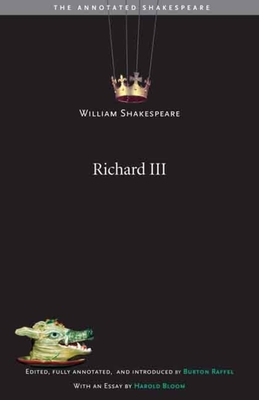 Richard III (The Annotated Shakespeare) (Paperback)
Yale University Press, 9780300122022, 256pp.
Publication Date: April 22, 2008
Other Editions of This Title:
Digital Audiobook (6/14/2008)
Paperback (6/20/2016)
Paperback (12/16/2019)
Paperback (12/17/2016)
Paperback (8/24/2018)
Paperback (10/17/2019)
Paperback (7/21/2018)
Paperback (12/29/2019)
Paperback (9/2/2018)
Paperback, German (5/20/2013)
Paperback (6/10/2019)
Paperback (2/5/2013)
Paperback (5/17/2017)
Paperback (2/13/2019)
* Individual store prices may vary.
Description
Treacherous, power-hungry, untempered by moral restraint, and embittered by physical deformity, Richard, the younger brother of King Edward IV, is ablaze with ambition to take England's throne. Richard III, Shakespeare's long chronicle of Richard's machinations to be king, is a tale of murder upon murder. He gains the throne, but only briefly. In a terrible dream, the ghosts of his victims visit the now-despised monarch to foretell his demise. Richard's death in battle the next day concludes his reign of evil, ushering in at last a new and hopeful era of peace for England.
About the Author
Burton Raffel is Distinguished Professor of Arts and Humanities Emeritus and professor of English emeritus, University of Louisiana at Lafayette. Among his many edited and translated publications are Poems and Prose from the Old English, Cligès, Lancelot, Perceval, Erec and Enide, and Yvain, all published by Yale University Press. Harold Bloom, Sterling Professor of the Humanities at Yale University, is the author of many books, including most recently Fallen Angels, published by Yale University Press.