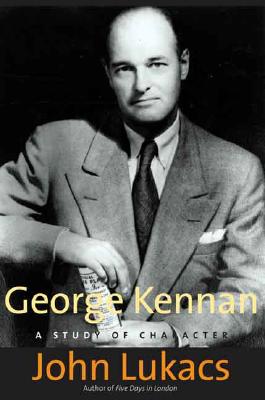 George Kennan (Hardcover)
A Study of Character
Yale University Press, 9780300122213, 224pp.
Publication Date: April 1, 2007
Other Editions of This Title:
Paperback (1/6/2009)
* Individual store prices may vary.
Description
A man of impressive mental powers, of extraordinary intellectual range, andlast but not leastof exceptional integrity, George Frost Kennan (1904-2005) was an adviser to presidents and secretaries of state, with a decisive role in the history of this country (and of the entire world) for a few crucial years in the 1940s, after which he was made to retire; but then he became a scholar who wrote seventeen books, scores of essays and articles, and a Pulitzer Prizewinning memoir. He also wrote remarkable public lectures and many thousands of incisive letters, laying down his pen only in the hundredth year of his life.
Having risen within the American Foreign Service and been posted to various European capitals, and twice to Moscow, Kennan was called back to Washington in 1946, where he helped to inspire the Truman Doctrine and draft the Marshall Plan. Among other things, he wrote the X or Containment article for which he became, and still is, world famous (an article which he regarded as not very important and liable to misreading). John Lukacs describes the development and the essence of Kennan's thinking; theperhaps unavoidablemisinterpretations of his advocacies; his self-imposed task as a leading realist critic during the Cold War; and the importance of his work as a historian during the second half of his long life.
About the Author
John Lukacs is an internationally read and praised historian, the author of more than twenty books, a winner of prizes, past president-elect of the American Catholic Historical Association, and member of the Royal Historical Society of the United Kingdom.
Praise For George Kennan: A Study of Character…
"In this short, brilliant study of a long, prodigious life, John Lukacs has demonstrated, yet again, his genius for capturing, with gimlet-eyed economy, the essence of the pivotal events and careers of history. In the shelves of books that have been written by and about George Kennan, this one deserves a place of honor."—Strobe Talbott, President, The Brookings Institution


-Strobe Talbott

"John Lukacs has managed to capture the essence of the whole person more successfully than any of the earlier commentators on Kennan. He has done this in an admirably compact and readable volume."—The Honorable Jack F. Matlock, Former U.S. Ambassador to the U.S.S.R., Former George F. Kennan Professor, Institute for Advanced Study



-The Honorable Jack F. Matlock
or
Not Currently Available for Direct Purchase