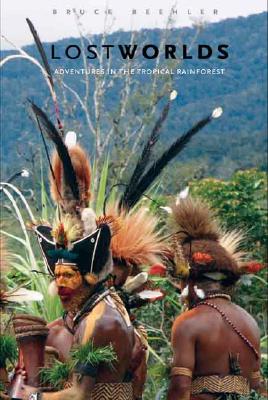 Lost Worlds
Adventures in the Tropical Rainforest
Hardcover

* Individual store prices may vary.
Other Editions of This Title:
Paperback (8/25/2009)
Description
Perhaps it is not possible to experience all the mysterious sounds, the unfamiliar smells, and the spectacular sights of a tropical rainforest without ever visiting one. But this exhilarating and honest book comes wondrously close to taking the reader on such a journey. Bruce M. Beehler, a widely traveled expert on birds and tropical ecology, recounts fascinating details from twelve field trips he has taken to the tropics over the past three decades. As a researcher, he brings to life the exotic rainforests and the people who inhabit them; as a conservationist, he makes a plea for better ways of managing rainforests a resource that the world cannot do without. Drawing on his experiences in Papua New Guinea, India, Madagascar, Indonesia, the Philippines, Panama, and the Ivory Coast, Beehler describes the surprisesboth pleasant and unpleasantof doing science and conservation in the field. He explains the role that rainforests play in the lives of indigenous peoples and the crucial importance of understanding local cultures, customs, and politics. The author concludes with simple but tough solutions for maintaining rainforest health, expressing fervent hope that his great-grandchildren and others may one day also hear the rainforest whisper its secrets.
Praise For Lost Worlds: Adventures in the Tropical Rainforest…
"This is a marvelous account of rain forest field biology and conservation. It captures the life of modern day conservation field biologists unlike any other book I know of."—Thomas E. Lovejoy, The Heinz Center for Science, Economics and the Environment
-Thomas E. Lovejoy

"Bruce Beehler offers an excellent explanation of why tropical forests are important and how they are studied. Few scientists have worked in so many rain forests around the world."—Roger Pasquier, Environmental Defense
-Roger Pasquier

"I was riveted by this book. What E.O. Wilson conveys for the insect world, Bruce Beehler accomplishes for rainforest birds."—Meg Lowman, author of Life in the Treetops and It's a Jungle Up There
-Meg Lowman

"Bruce Beehler has devoted his life to studying and protecting the tropical forests of the world-—from Panama to Papua New Guinea. In Lost Worlds, he writes about his adventures with uncommon wisdom and wit. The result is a fascinating mix of scientific discovery, autobiography, and environmental advocacy."—David S. Wilcove, Professor of Ecology, Evolutionary Biology, and Public Affairs, Princeton University
-David S. Wilcove

"[Beehler''s] memoir vividly describes the forests and wildlife that are his passion while offering an unromantic view of how ''environmental carpetbaggers'' like himself work—warts and all."—Margaret Pizer, Conservation Magazine
-Margaret Pizer
Yale University Press, 9780300122282, 272pp.
Publication Date: April 1, 2008
About the Author
Bruce M. Beehler is senior research scientist in the Center for Applied Biodiversity Science at Conservation International. He is an internationally known ornithologist and leader of natural history expeditions, and his books include "The Birds of Paradise," "Birds of New Guinea," and "A Naturalist in New Guinea."
or
Not Currently Available for Direct Purchase