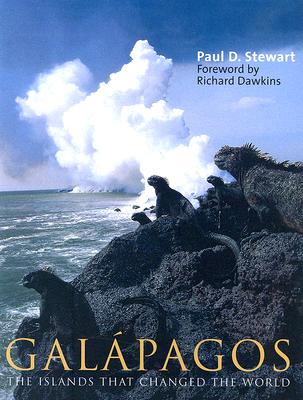 Galapagos: The Islands That Changed the World (Paperback)
The Islands That Changed the World
Yale University Press, 9780300122305, 240pp.
Publication Date: February 28, 2007
Description
Rocky, fragile, beautiful, strange--the Galapagos archipelago is unlike any other place on earth. Its geology, its unique flora and fauna, and its striking role in human history intersect in surprising and dynamic ways. This book is the most wide-ranging and beautifully illustrated book available on the famous islands. Not since Darwin's Naturalist's Voyage has a book combined so much scientific and historic information with firsthand accounts that bring the Galapagos to life.
Galapagos: The Islands That Changed the World describes how tragedy and murderous pirates curtailed settlement of the islands and how the islands' pristine nature, spectacular geology, and defining isolation inspired Darwin's ideas about evolution. The book explores the diverse land and marine habitats that shelter Galapagos species and considers the islands' importance today as a frontier for science and a refuge for true wilderness.
The book's extensive gazetteer provides details about endemic plants and animals as well as travel advice about visitors' sites, diving, photography, when to go, and what to take. Vividly illustrated throughout, this guide is an indispensable reference for natural history enthusiasts, armchair travelers, and island visitors alike.
About the Author
Paul D. Stewart has published extensively in leading science and conservation journals. He has produced and filmed many award-winning documentaries for the BBC's Natural History Unit. Godfrey Merlen, a thirty-year resident of the Galapagos, works with the National Park Service and is director of the Wildaid Foundation. Patrick Morris is an award-winning wildlife documentary maker and the series producer of Galapagos. Andrew Murray is producer of the second episode of the Galapagos series and works with the BBC's Natural History Unit. Joe Stevens works for the BBC's Natural History Unit. Richard Wollocombe, one of the first dive guides in the Galapagos, is a naturalist guide and filmmaker in South America.
Praise For Galapagos: The Islands That Changed the World…
"I have been to the Galapagos and as I read this book I found myself 'walking the paths' again. Stewart offers an enjoyable and complete overview of the islands."—Noble Proctor, author of A Field Guide to North Atlantic Wildlife

-Noble Proctor

"The definitive single volume on the Galapagos that ecotourists and readers from all walks of life have been awaiting."—Margaret Lowman, author of Life in the Treetops and co-author of It''s a Jungle Up There: More Tales from the Treetops
-Margaret Lowman
Advertisement