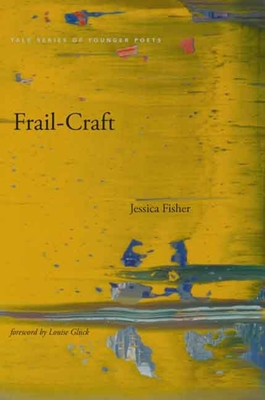 Frail-Craft (Yale Series of Younger Poets)
Paperback

* Individual store prices may vary.
Description
Announcing the 2006 recipient of the prestigious Yale Younger Poets prize

Jessica Fisher's Frail-Craft is winner of the 2006 Yale Series of Younger Poets competition and judge Louise Glück's fourth selection for the series. The book and the dream are the poet's primary objects of investigation here. Through deft, quietly authoritative lyrics, Fisher meditates on the problems and possibilities—the frail craft—of perception for the reader, the dreamer, maintaining that "if the eye can love—and it can, it does—then I held you and was held." In her foreword to the book, Louise Glück writes that Fisher's poetry is "haunting, elusive, luminous, its greatest mystery how plain-spoken it is. Sensory impressions, which usually serve as emblems of or connections to emotion, seem suddenly in this work a language of mind, their function neither metonymic nor dramatic. They are like the dye with which a scientist injects his specimen, to track some response or behavior. Fisher uses the sense this way, to observe how being is converted into thinking."
Yale University Press, 9780300122350, 96pp.
Publication Date: April 2, 2007
About the Author
Jessica Fisher is a doctoral candidate in English at the University of California at Berkeley. She is coeditor, with Robert Hass, of The Addison Street Anthology. She lives in Oakland.