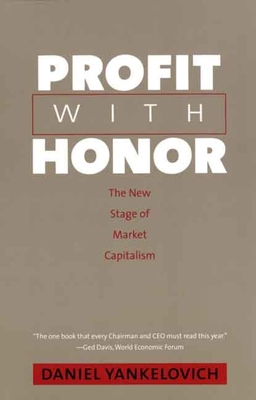 Profit with Honor (Paperback)
The New Stage of Market Capitalism (The Future of American Democracy Series)
Yale University Press, 9780300122602, 208pp.
Publication Date: June 19, 2007
* Individual store prices may vary.
Description
This wise and optimistic book examines the rampant scandals that plague American corporations today and shows how companies can reverse the resulting climate of mistrust. By seizing the opportunity to address some of the nation's—and the world's—most serious problems, business can strengthen its reputation for integrity and service and advance to a new stage of ethical legitimacy. Daniel Yankelovich, a social scientist and an experienced member of the corporate boardroom, describes the toxic convergence of cultural and business trends that has led inexorably to corporate scandals. Yet he offers reassurance that opportunity exists for positive change. Creative business leaders can advance market capitalism to its next stage of evolution, building upon business norms that simultaneously emphasize the legitimacy of profit making and the importance of the care that companies give to employees, customers, and the larger society.
The book asserts that American culture has abandoned its old tradition of enlightened self-interest, of "doing well by doing good." A narrow legalism has taken over ("I didn't break the law; therefore I didn't do anything wrong"). Yankelovich argues that attempts to deal with such flawed ethical norms by means of more laws and regulations cannot succeed. He offers a series of case histories to show how and why stewardship ethics can strengthen individuals, corporations, the nation, and the world economy.
About the Author
Daniel Yankelovich is chairman of Viewpoint Learning, of Public Agenda, and of DYG, Inc. He is best known for his work in the field of social values and public opinion and has served on the boards of numerous corporations, including CBS, Educational Testing Service, Meredith Publishing, Loral Space & Communications, and USWest. He is also the coeditor, with Norton Garfinkle, of
Uniting America: Restoring the Vital Center to American Democracy,
published by Yale University Press.
or
Not Currently Available for Direct Purchase