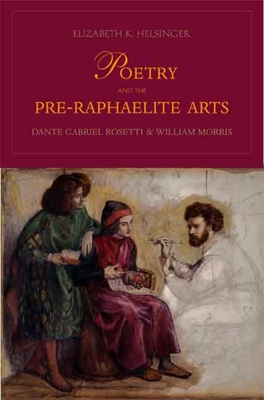 Poetry and the Pre-Raphaelite Arts
Dante Gabriel Rossetti and William Morris
Hardcover

* Individual store prices may vary.
Description
Focusing on two of the most influential figures in the Pre-Raphaelite movement, Dante Gabriel Rossetti and William Morris, this book explores new ways of considering art and literature together. Elizabeth Helsinger traces the unusually close relationship between the poetry and poetics of two poet-artists and their contemporary practice of visual art and design. Her study focuses on innovations encouraged by the interaction between the arts to reassess the importance of Pre-Raphaelitism in literary as well as art history. Using the concept of "translation" from one medium to another, Helsinger develops compelling analyses of particular works and of the shared concerns of Rossetti and Morris. She connects their aesthetic and social experiments to projects undertaken by others, and she demonstrates the impact of Pre-Raphaelite strategies on later poets and poetic theorists. Lively and illuminating, this book both offers and studies the pleasures of reading and viewing attentively.
Praise For Poetry and the Pre-Raphaelite Arts: Dante Gabriel Rossetti and William Morris…
"A brilliant and most enjoyable book,
Poetry and the Pre-Raphaelite Arts
is consistently stimulating."—Kate Flint, Rutgers University
— Kate Flint
"Helsinger offers an original, thoroughly researched, imaginative, and convincing approach to Morris and Rossetti."—Norman Kelvin, City University of New York
— Norman Kelvin
"Helsinger's readings of major art-poetry by Rossetti and Morris make lavishly good on her claim to find PreRaphaelitism beholding one art through the medium of another, and thereby vesting culturally therapeutic power in redoubled attentiveness itself."—Herbert Tucker, University of Virginia
— Herbert Tucker
"Helsinger's distinguished career has been pointing towards this book for a long time. Now, thank Somebody, we have it—a splendid exploration of 'aesthetic consciousness as a distinctive form of knowing,' and of the pivotal contribution Rossetti and Morris made to the dance of intellect."—Jerome McGann, University of Virginia
— Jerome McGann
"Elizabeth Helsinger's fascinating new book brings together the two sides of Pre-Raphaelite art, visual and verbal, that have—regrettably and unaccountably—largely remained sundered in previous scholarship on the movement."—Elizabeth Prettejohn, author of
Art for Art's Sake: Aestheticism in Victorian Painting
— Elizabeth Prettejohn
Yale University Press, 9780300122732, 352pp.
Publication Date: July 15, 2008
About the Author
Elizabeth K. Helsinger is John Matthews Manly Distinguished Service Professor, Departments of English and Art History, and the College, University of Chicago. She is the author of several previous books, including Ruskin and the Art of the Beholder and Rural Scenes and National Representation: Britain 1815–1850. She lives in Chicago.
or
Not Currently Available for Direct Purchase