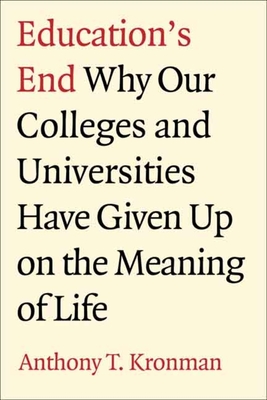 Education's End
Why Our Colleges and Universities Have Given Up on the Meaning of Life
Hardcover

* Individual store prices may vary.
Description
A passionate call for our colleges and universities to prepare young people for lives of fulfillment not just successful careers

The question of what living is for—of what one should care about and why—is the most important question a person can ask. Yet under the influence of the modern research ideal, our colleges and universities have expelled this question from their classrooms, judging it unfit for organized study. In this eloquent and carefully considered book, Tony Kronman explores why this has happened and calls for the restoration of life's most important question to an honored place in higher education.The author contrasts an earlier era in American education, when the question of the meaning of life was at the center of instruction, with our own times, when this question has been largely abandoned by college and university teachers.  In particular, teachers of the humanities, who once felt a special responsibility to guide their students in exploring the question of what living is for, have lost confidence in their authority to do so. And they have lost sight of the question itself in the blinding fog of political correctness that has dominated their disciplines for the past forty years. Yet Kronman sees a readiness for change—a longing among teachers as well as students to engage questions of ultimate meaning. He urges a revival of the humanities' lost tradition of studying the meaning of life through the careful but critical reading of great works of literary and philosophical imagination. And he offers here the charter document of that revival.
Praise For Education's End: Why Our Colleges and Universities Have Given Up on the Meaning of Life…
"Kronman unfolds here a sustained argument marked by subtlety, force, nuance, and considerable appeal."—Francis Oakley, President Emeritus, Williams College


-Francis Oakley

"In a brilliant, sustained argument that is as forthright, bold, and passionately felt as it is ideologically unclassifiable and original, Anthony Kronman leaps in a bound into the center of America's cultural disputes, not to say cultural wars. Although Kronman's specific area of concern is higher education, his argument will reach far beyond campus walls."—Jonathan Schell, author of The Unconquerable World:  Power, Nonviolence and the Will of the People
-Jonathan Schell

"Just when we need them most, the humanities have relinquished their role at the heart of liberal education—helping students reflect on what makes life worth living. In this bold and provocative book, Anthony Kronman explains why the humanities have lost their way. With eloquence and passion, he argues that departments of literature, classics, and philosophy can recover their authority and prestige only by reviving their traditional focus on fundamental questions about the meaning of life."—Michael J. Sandel, author of The Case against Perfection and Public Philosophy

-Michael J. Sandel

"No question that the humanities are in a bad way in education at the present, and this book offers not just an argument that they should be more highly prized, but a carefully reasoned position of what happened, why it did, and what needs and can be done about it."—Alvin Kernan, author of In Plato's Cave
-Alvin Kernan

"An impassioned defense of the humanities."—Robert Messenger, Wall Street Journal
-Robert Messenger

"Kronman argues his case passionately. His discussion of the transformation of American higher education over the last century and a half is most illuminating."—George Leef, NationalReview.com
-George Leef

"In Education's End Kronman succeeds remarkably well, even movingly, in conveying the intellectual and spiritual joy that a serious student can find by participating in the 'great conversation.'"—Ben Wildavsky, Commentary
-Ben Wildavsky

"Kronman's study is an important contribution to the discussion about what education is for, and where it is going."—David Clemens, Journal of Interdisciplinary Studies
-David Clemens
Yale University Press, 9780300122886, 320pp.
Publication Date: September 25, 2007
About the Author
Anthony T. Kronman is Sterling Professor of Law, Yale Law School. Since stepping down as Dean of the Law School in 2004, he has been teaching in the Directed Studies Program at Yale and devoting himself to the humanities.
or
Not Currently Available for Direct Purchase