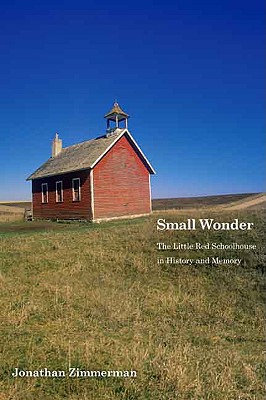 Small Wonder (Hardcover)
The Little Red Schoolhouse in History and Memory
Yale University Press, 9780300123265, 233pp.
Publication Date: July 1, 2009
Other Editions of This Title:
Paperback (3/3/2015)
* Individual store prices may vary.
Description
The little red schoolhouse has all but disappeared in the United States, but its importance in national memory remains unshakable. This engaging book examines the history of the one-room school and how successive generations of Americans have rememberedand just as often misrememberedthis powerful national icon.Drawing on a rich range of sources, from firsthand accounts to poems, songs, and films, Jonathan Zimmerman traces the evolution of attitudes toward the little red schoolhouse from the late nineteenth century to the present day. At times it was celebrated as a symbol of lost rural virtues or America's democratic heritage; at others it was denounced as the epitome of inefficiency and substandard academics. And because the one-room school has been a useful emblem for liberal, conservative, and other agendas, the truth of its history has sometimes been stretched. Yet the idyllic image of the schoolhouse still unites Americans. For more than a century, it has embodied the nation's best aspirations andespeciallyits continuing faith in education itself.
About the Author
Jonathan Zimmerman is professor of education and history, New York University. His previous books include Innocents Abroad: American Teachers in the American Century and Whose America? Culture Wars in the Public Schools. He lives in Narberth, PA.
Praise For Small Wonder: The Little Red Schoolhouse in History and Memory…
"Perceptive and original."—Alison Lurie, New York Review of Books
-Alison Lurie

"A remarkable history of one room schools and about their place in our collective memory."—John L. Rury, University of Kansas


-John L. Rury

"This beautifully written book makes a unique and original contribution not only to the history of American education, specifically, but to American social history, writ large."—Jeffrey Mirel, University of Michigan


-Jeffrey Mirel

"One of America''s most thoughtful historians, Jonathan Zimmerman is also one of the most innovative, as he shows in this remarkable new study of a universally recognized but—until now—incompletely understood educational icon.
Thoroughly researched and crisply written, Zimmerman''s account of the little red schoolhouse''s past, actual and
remembered, is authoritative, nuanced, and full of surprises. Small Wonder makes a big contribution to the
interpretation of American culture."—Charles Lane, author of The Day Freedom Died: The Colfax Massacre,
The Supreme Court and The Betrayal of Reconstruction
-Charles Lane

"Readers will enjoy this unique look at how the little red schoolhouse came to be our foremost symbol of education.  Each chapter is filled with thought provoking perspectives and information."—Mark Dewalt, author of Amish Education in the United States and Canada

-Mark Dewalt

"Jonathan Zimmerman, a professor at New York University, sets out to tell 'how—and why—the little red schoolhouse became an American icon.' Mr. Zimmerman proves a thoughtful and entertaining teacher."—Bill Kauffman, Wall Street Journal
-Bill Kauffman

Received a Special Citation for the 2010 Book Awards, given by the Colonial Dames of America
-Special Citation

"Small Wonder is a perfect book for stimulating discussion in educational history and philosophy classes. It is full of lively anecdotes and raises basic questions about how to create a community of learners."--Polly Welts Kaufman, Journal of American History

-Polly Welts Kaufman

"Historians will read Small Wonders with profit, but the book is aimed at the general public. Zimmerman writes with a light touch; his prose will carry readers along quickly. This is a charming book, though serious and scholarly, with only 184 pages of text and appropriately garnished with thirteen illustrations."—Christopher Collier, Journal of Social History
-Christopher Collier
or
Not Currently Available for Direct Purchase