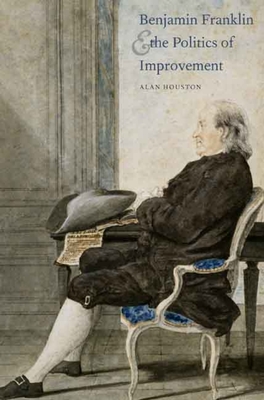 Benjamin Franklin and the Politics of Improvement (The Lewis Walpole Series in Eighteenth-Century Culture and History)
Hardcover

* Individual store prices may vary.
Description
This fascinating book explores Benjamin Franklin's social and political thought. Although Franklin is often considered "the first American," his intellectual world was cosmopolitan. An active participant in eighteenth-century Atlantic debates over the modern commercial republic, Franklin combined abstract analyses with practical proposals. Houston treats Franklin as shrewd, creative, and engaged—a lively thinker who joined both learned controversies and political conflicts at home and abroad.
Drawing on meticulous archival research, Houston examines such tantalizing themes as trade and commerce, voluntary associations and civic militias, population growth and immigration policy, political union and electoral institutions, freedom and slavery. In each case, he shows how Franklin urged the improvement of self and society.
Engagingly written and richly illustrated, this book provides a compelling portrait of Franklin, a fresh perspective on American identity, and a vital account of what it means to be practical.
Praise For Benjamin Franklin and the Politics of Improvement (The Lewis Walpole Series in Eighteenth-Century Culture and History)…
"Houston's placement of Franklin in the milieu of the social and political theorists with whom he circulated is unmatched."—Carla Mulford, Pennsylvania State University
— Carla Mulford
"An important, well-written, and consistently interesting interpretation of Franklin."—J. A. Leo Lemay, University of Delaware
— J. A. Leo Lemay
"I can think of no work that comes close to giving such a rich account of this polymath, and none that opens such politically provocative vantage points from Franklin's work onto eighteenth-century America, commercial society, the history of demography, and more."—Don Herzog, University of Michigan
— Don Herzog
"In this wonderfully creative study, Alan Houston recaptures the extraordinary complexity of Franklin's thought. The book not only is a pleasure to read, but also provides a compelling new methodology for analyzing political ideas in a commercial society."—T.H. Breen, author of The Marketplace of Revolution: How Consumer Politics Shaped American Independence
— T.H. Breen
"Houston succeeds admirably in contextualizing and skillfully presenting the politics and political economy informing Franklin's understanding of colonial America's increasingly independent strength within the larger British empire. It is essential reading for the study of Franklin's political thought."—Shannon Stimson, University of California-Berkeley
— Shannon Stimson
"A dazzlingly written and deliciously detailed portrait of Franklin's unique place in the politics and culture of the eighteenth-century Atlantic world."—Stephen Holmes, New York University School of Law
— Stephen Holmes
Yale University Press, 9780300124477, 336pp.
Publication Date: November 18, 2008
About the Author
Alan Houston is professor of political science at the University of California, San Diego. He lives in San Diego.
or
Not Currently Available for Direct Purchase