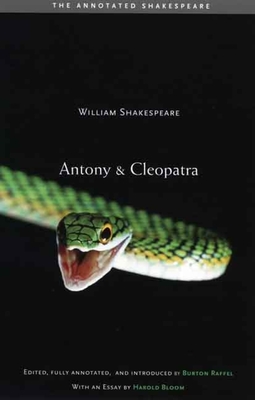 Antony and Cleopatra (The Annotated Shakespeare)
Paperback

* Individual store prices may vary.
Other Editions of This Title:
Paperback (2/9/2014)
Paperback (5/20/2013)
Paperback (12/2/2012)
Paperback (12/2/2012)
Paperback (12/2/2012)
Paperback (12/2/2012)
Paperback (11/15/2017)
Paperback (7/27/2018)
Paperback (8/25/2017)
Paperback (8/14/2018)
Paperback (5/11/2017)
Paperback (6/10/2019)
Paperback (11/28/2019)
Paperback (4/1/2019)
Paperback (9/10/2014)
Paperback (9/6/2018)
Paperback (3/5/2020)
Paperback (7/20/2018)
Paperback (6/19/2019)
Paperback (1/19/2020)
Description
The Annotated Shakespeare series enables today's readers to understand and enjoy the plays of the world's greatest dramatist. Comprehensive on-page annotations assist with vocabulary, pronunciation, prosody, and alternative readings of phrases and lines in these handsome and affordable paperback editions.

In no other play has Shakespeare created two such equally titanic personages as Rome's great soldier and statesman Mark Antony and the Egyptian Queen Cleopatra. The story of their irresistible attraction, their jealous quarrels and betrayals, and the effects on friends and subjects of their ruinous choices is a tale leading irretrievably to despair and defeat. Their suicides, however, strike us as a kind of triumph. Shakespeare stood at the height of his powers when he penned this great tragedy, one of the last he produced.
Yale University Press, 9780300124736, 256pp.
Publication Date: October 24, 2007
About the Author
Burton Raffel is Distinguished Professor of Arts and Humanities Emeritus and professor of English emeritus, University of Louisiana at Lafayette. Among his many edited and translated publications are Poems and Prose from the Old English, Cligès, Lancelot, Perceval, Erec and Enide, and Yvain, all published by Yale University Press. Harold Bloom, Sterling Professor of the Humanities at Yale University, is the author of many books, including his new volume Fallen Angels, published by Yale University Press (see page 14).
or
Not Currently Available for Direct Purchase