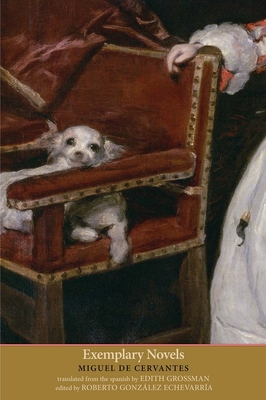 Exemplary Novels (The Margellos World Republic of Letters)
Hardcover

* Individual store prices may vary.
Other Editions of This Title:
Paperback (1/9/2018)
Description
Edith Grossman, celebrated for her brilliant translation of Don Quixote, offers a dazzling new version of another Cervantes classic, on the 400th anniversary of his death  

The twelve novellas gathered together in Exemplary Novels reveal the extraordinary breadth of Cervantes's imagination: his nearly limitless ability to create characters, invent plots, and entertain readers across continents and centuries. Cervantes published his book in Spain in 1613. The assemblage of unique characters (eloquent witches, talking dogs, Gypsy orphans, and an array of others), the twisting plots, and the moral heart at the core of each tale proved irresistible to his enthusiastic audience. Then as now, Cervantes's readers find pure entertainment in his pages, but also a subtle artistry that invites deeper investigation. Edith Grossman's eagerly awaited translation brings this timeless classic to English-language readers in an edition that will delight those already familiar with Cervantes's work as well as those about to be enchanted for the first time. Roberto González Echevarría's illuminating introduction to the volume serves as both an appreciation of Cervantes's brilliance and a critical guide to the novellas and their significance.
Praise For Exemplary Novels (The Margellos World Republic of Letters)…
"Compressed masterworks, containing great canvases and big ideas in just a few pages. . . . A pleasure."—Kirkus Reviews

"Grossman's prose is clear, accurate, and, fittingly, never flashy. As with Don Quixote, the language and formal devices of Cervantes make the transition from Spanish to English with only minor shifts in tone and tenor. Relatively little is lost in translation, as it were."—Choice

"Cause for celebration . . . In a sparkling translation by Edith Grossman . . . the twelve interlocking novellas charm from first to last."—Alan Bisbort, Sunday Republican (Waterbury, CT)

"[Translator] Edith Grossman . . . masters the nuances and artistic vision of Cervantes . . . This collection is a fresh take on the intricate plots and vivid characters that Cervantes is known for."—World Literature Today

"For most English-language readers, Cervantes is a one-book wonder. But these twelve novellas, newly translated by the virtuosic Edith Grossman, are a revelation to us. They are a feast for Cervantes' admirers, and stand truly by themselves—witty, naughty, trenchant, smart, widely ranging, thoroughly modern and readable. Coming late in Cervantes' life, they are a sly and mischievous and memorable adiós—just as we would expect."—Richard Ford

"Exemplary Novels spans nearly the whole creative life of Cervantes . . . The book is like a summing up of Cervantes's fiction, displaying its broad range of topics, characters, styles, and plots."—Roberto González Echevarría, Author of Cervantes' Don Quixote (The Open Yale Course Series)

"It seems appropriate that Edith Grossman publishes her translation of the Exemplary Novels thirteen years after the printing of her masterful translation of Don Quijote, as it took Cervantes ten years to come out with his second part of Don Quijote. Thus the supreme English translation of the best novel ever written on this side of the galaxy both precedes and follows the colloquy of Cipión and Berganza, as the wise words of both dogs precede and proceed those of the knight and the squire on their painful search for the meaning of human identity."—Carlos Rojas

"Finally we have a worthy translation of Cervantes's Exemplary Novels, the extraordinary follow-up to Don Quixote that enchanted generations of readers, but that has not been widely available to English readers in a version that approaches the sparkling original. Reading Edith Grossman's gorgeous prose is like traveling to a far off place, unearthing a hidden container, and finding in it a glove that slips onto your hand like a second skin."—William Egginton, author of The Man Who Invented Fiction: How Cervantes Ushered In the Modern World

"Edith Grossman is one of the best Hispanists in the English language world and an extraordinary translator.  Her version of the Quijote, which appeared a few years ago, was unanimously celebrated, and the same will no doubt happen with this new version of Cervantes's Exemplary Novels."—Mario Vargas Llosa


Yale University Press, 9780300125863, 448pp.
Publication Date: November 22, 2016
About the Author
Miguel de Cervantes (1547–1616) was a Spanish author, poet, and playwright most notable for the creation of Don Quixote. Edith Grossman has brilliantly translated many Spanish‑speaking authors of the past century, including Mario Vargas Llosa and Gabriel García Márquez. Roberto González Echevarría, Sterling Professor of Hispanic and Comparative Literatures, Yale University, received the 2010 National Humanities Medal from President Barack Obama.
or
Not Currently Available for Direct Purchase