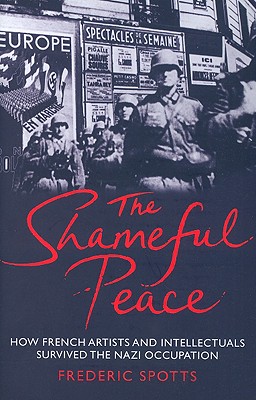 The Shameful Peace (Hardcover)
How French Artists and Intellectuals Survived the Nazi Occupation
Yale University Press, 9780300132908, 288pp.
Publication Date: January 1, 2009
Other Editions of This Title:
Paperback (3/30/2010)
* Individual store prices may vary.
Description
The German occupation of France from 1940 to 1945 presented wrenching challenges for the nation's artists and intellectuals. Some were able to flee the country; those who remained including Gide and Celine, Picasso and Matisse, Cortot and Messiaen, and Cocteau and Gabin responded in various ways. This fascinating book is the first to provide a full account of how France's artistic leaders coped under the crushing German presence. Some became heroes, others villains; most were simply survivors.
Filled with anecdotes about the artists, composers, writers, filmmakers, and actors who lived through the years of occupation, the book illuminates the disconcerting experience of life and work within a cultural prison. Frederic Spotts uncovers Hitler's plan to pacify the French through an active cultural life, and examines the unexpected vibrancy of opera, ballet, painting, theater, and film in both the Occupied and Vichy Zones. In view of the longer-term goal to supplant French with German culture, Spotts offers moving insight into the predicament of French artists as they fought to preserve their country's cultural and national identity.
About the Author
Frederic Spotts is an independent scholar who has written widely on cultural topics, published books on German and Italian politics, and edited The Letters of Leonard Woolf. He is the author of Bayreuth: A History of the Wagner Festival and, most recently, Hitler and the Power of Aesthetics. He lives in France.
Praise For The Shameful Peace: How French Artists and Intellectuals Survived the Nazi Occupation…
"Spotts provides a detailed, intimate account of French artists in nervous co-existence with the Nazis."—Robert Fulford, National Post
-Robert Fulford



"A fascinating account of how famous writers, artists, and intellectuals living in France during the war survived the Nazi occupation; a whole spectrum from heroes to collaborators." — Marcel Berlins, Guardian G2


-Marcel Berlins

"Admirably forensic and entertaining . . . a set of refreshing opinions on familiar figures such as Jean-Paul Sartre, Simone de Beauvoir and the rest of the crowd clustered around the cafes of Saint-Germain-des Prés. . . . [A]n excellent book." — Andrew Hussey, New Statesman
-Andrew Hussey

"Carefully, and authoritatively written. . . . [This book] lifts the lid on one of the least known—and most shameful—episodes of the period."—Wall Street Journal

"Those unlucky enough to have to live in Nazi-occupied France ran the gamut from Resistance heroes to enthusiastic collaborators; most just tried to get on with their lives and work. Spotts shows that those involved in the life of the mind and imagination were no exception. He presents the individual cases with a clear, and therefore subtle, eye."—The Atlantic



"This is an important store and the general reader will gain a useful insight into French artistic life during the Occupation and the Epuration."--Nicholas Hewitt, H-France Review
-Nicholas Hewitt
or
Not Currently Available for Direct Purchase