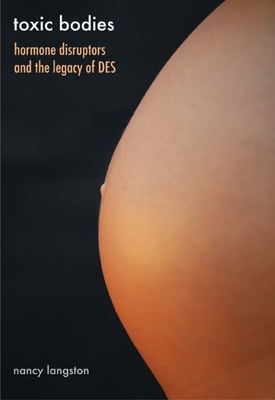 Toxic Bodies
Hormone Disruptors and the Legacy of DES
Hardcover

* Individual store prices may vary.
Other Editions of This Title:
Paperback (3/29/2011)
Description
In 1941 the Food and Drug Administration approved the use of diethylstilbestrol (DES), the first synthetic chemical to be marketed as an estrogen and one of the first to be identified as a hormone disruptor—a chemical that mimics hormones. Although researchers knew that DES caused cancer and disrupted sexual development, doctors prescribed it for millions of women, initially for menopause and then for miscarriage, while farmers gave cattle the hormone to promote rapid weight gain. Its residues, and those of other chemicals, in the American food supply are changing the internal ecosystems of human, livestock, and wildlife bodies in increasingly troubling ways.
In this gripping exploration, Nancy Langston shows how these chemicals have penetrated into every aspect of our bodies and ecosystems, yet the U.S. government has largely failed to regulate them and has skillfully manipulated scientific uncertainty to delay regulation. Personally affected by endocrine disruptors, Langston argues that the FDA needs to institute proper regulation of these commonly produced synthetic chemicals.
Praise For Toxic Bodies: Hormone Disruptors and the Legacy of DES…
"Like [Rachel] Carson, Langston uses lively and even lyrical writing. . . to tell the story of the risks posed by synthetic compounds currently found in pesticides, pharmaceuticals and plastics, such as BPA."--Shawn Doherty, The Capital Times
— Shawn Doherty
"The historical slant is indeed unique. . . . the manuscript is well documented and written in a way that conveys the science in an understandable fashion."—Dixie Mills, M.D., F.A.C.S., Medical Director, Dr. Susan Love Research Foundation
— Dixie Mills
"An important and timely piece of work from a well-established scholar."—Brian Donahue, Brandeis University
— Brian Donahue
"A fascinating but horrifying account of how the vast majority of the American population became unwitting participants in a large and ultimately disastroua public health experiment."--Jill Sakai,
University of Wisconsin--Madison News
— Jill Sakai
"Langston is poised perfectly to examine the scientific and social history of endocrine disruptors. . . . Langston's prose is precise and elegant. Moreover, her explanations of scientific frameworks, data, and debates are quite accessible. . . . This is certainly a fascinating and persuasive study that should be read by anyone interested in environmental health, environmental history, the history of medicine, gender studies, as well as larger questions regarding the entanglements between science, law, industry, medicine, and public policy."—Stacy Alaimo,
American Book Review
— Stacy Alaimo
Yale University Press, 9780300136074, 256pp.
Publication Date: March 2, 2010
About the Author
Nancy Langston, a professor in the Department of Forest and Wildlife Ecology with a joint appointment in the Nelson Institute for Environmental Studies at the University of Wisconsin, Madison, was president of the American Society for Environmental History in 2007-9.
or
Not Currently Available for Direct Purchase