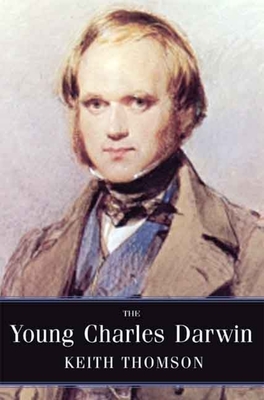 The Young Charles Darwin
Hardcover

* Individual store prices may vary.
Other Editions of This Title:
Paperback (10/19/2010)
Description
On the 150th anniversary of On the Origin of Species, a new investigation of Darwin's early years and how he arrived at his revolutionary ideas

What sort of person was the young naturalist who developed an evolutionary idea so logical, so dangerous, that it has dominated biological science for a century and a half? How did the quiet and shy Charles Darwin produce his theory of natural selection when many before him had started down the same path but failed? This book is the first to inquire into the range of influences and ideas, the mentors and rivals, and the formal and informal education that shaped Charles Darwin and prepared him for his remarkable career of scientific achievement.

Keith Thomson concentrates on Darwin's early life as a schoolboy, a medical student at Edinburgh, a theology student at Cambridge, and a naturalist aboard the Beagle on its famous five-year voyage. Closely analyzing Darwin's Autobiography and scientific notebooks, the author draws a fully human portrait of Darwin for the first time: a vastly erudite and powerfully ambitious individual, self-absorbed but lacking self-confidence, hampered as much as helped by family, and sustained by a passion for philosophy and logic. Thomson's account of the birth and maturing of Darwin's brilliant theory is fascinating for the way it reveals both his genius as a scientist and the human foibles and weaknesses with which he mightily struggled.
Praise For The Young Charles Darwin…
"The image of Darwin as the doddering old sage of Down, taking his daily constitutional walks about the backyard sand path thinking deep thoughts about the philosophical implications of evolution, has become so iconic that we forget what he was like in his youth and prime. Keith Thomson has brilliantly resurrected the young Charles Darwin, revealing the inchoate mind of a genius in the early stages of countless starts and stops, hunches and hypotheses. This compelling narrative reminds us of how creativity and insight really begin."—Michael Shermer, Publisher Skeptic magazine, monthly columnist Scientific American, author of Why Darwin Matters
— Michael Shermer
"Thomson, who manages to be stylish, scholarly and entertaining all at the same time, investigates Darwin's early years and how he arrived at his revolutionary ideas."—
Scientific American
— Scientific American
"What we have here is not just a specific study of how Darwin came to write what he did but a general study into the working of a mind."--
Contemporary Review
— Contemporary Review
"Thomson's
The Young Charles Darwin
is written in a highly accessible style that will appeal to a wide range of readers...There is much of value here."--Catherine Day and James G. Lennox,
Review Forum on Charles Darwin and Darwiniana
— Catherine Day and James G. Lennox
Yale University Press, 9780300136081, 288pp.
Publication Date: February 12, 2009
About the Author
Keith Thomson is professor emeritus of natural history, University of Oxford, and senior research fellow, the American Philosophical Society. He is also the author of more than 200 scientific papers and twelve books. Thomson lives in Philadelphia.
or
Not Currently Available for Direct Purchase