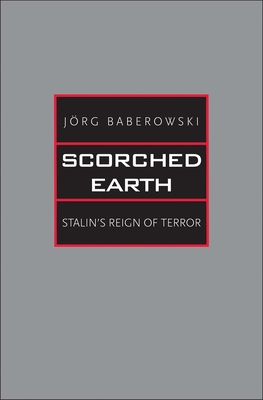 Scorched Earth
Stalin's Reign of Terror (Yale-Hoover Series on Authoritarian Regimes)
Hardcover

* Individual store prices may vary.
Description
German scholar Jörg Baberowski is one of the world's leading experts on the Stalin era, but his work has seldom been translated into English. This book, an unremitting indictment of the mad violence with which Stalin ruled the Soviet Union, depicts Stalinism as a cruel and deliberate attack on Russian society, driven by "totalitarian ambitions" and the goal of modernizing and rationalizing a backward people. Baberowski takes a twofold approach, emphasizing Stalin's personal role and responsibility as well as the continuity he sees in Communist aims and ideology since 1917. Unlike recent apologist accounts that focus on the challenges of modernization or on the operational complexities of managing the Soviet state, this hard-hitting analysis unequivocally locates the origins of the terror in the culture of violence and the techniques of power. Detailed, well-documented, and including many new details on the workings of the Stalinist state, this powerful work encompasses the dictator's brutal reign from his achievement of total power in 1929 to his death in 1953.
Praise For Scorched Earth: Stalin's Reign of Terror (Yale-Hoover Series on Authoritarian Regimes)…
"How often does an historian summon the courage to substantially revise his own work? In Scorched Earth, Jörg Baberowski again shows himself to be an elegant stylist and provocative thinker focused on the conundrum of mass violence. He argues that Stalin lusted for power, eagerly unleashed mass violence, indeed spoke through violence; that a state of emergency is a paradise for sadists and psychopaths; that the experience of violence fundamentally changes people; and that murder can induce exuberance. Chilling."--Stephen Kotkin, author of Stalin
 
— Stephen Kotkin

"Jörg Baberowski's Scorched Earth skillfully guides the reader through the nightmarish reality of Stalin's brutal rule of the Soviet Union. The smartly crafted narrative is full of interesting, important, and horrifying details that illustrate the diverse character of the killing. Baberowski tells a veracious story of fear and terror among Soviet citizens that is hard to forget."--Norman M. Naimark, author of Stalin's Genocides
— Norman Naimark

"Baberowski . . . analyzes the Stalinist system in what is arguably the most comprehensive and perceptive volume of its kind in the West."—Publishers Weekly, starred review
— Publishers Weekly
Yale University Press, 9780300136982, 512pp.
Publication Date: November 22, 2016
About the Author
Jörg Baberowski is an author and professor of Eastern European history. He teaches at Humboldt University in Berlin, where he lives.
or
Not Currently Available for Direct Purchase