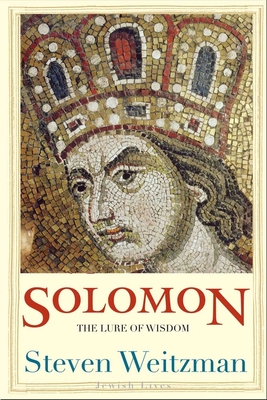 Solomon
The Lure of Wisdom (Jewish Lives)
Hardcover

* Individual store prices may vary.
Description
From the prizewinning Jewish Lives series, an intriguing and unconventional biography about one of the Bible's most elusive figures

Tradition has it that King Solomon knew everything there was to know—the mysteries of nature, of love, of God himself—but what do we know of him? Esteemed biblical scholar Steven Weitzman reintroduces readers to Solomon's story and its surprising influence in shaping Western culture, and he also examines what Solomon's life, wisdom, and writings have come to mean for Jews, Christians, and Muslims over the past two thousand years.
Weitzman's Solomon is populated by a colorful cast of ambitious characters—Byzantine emperors, explorers, rabbis, saints, scientists, poets, archaeologists, trial judges, reggae singers, and moviemakers among them—whose common goal is to unearth the truth about Solomon's life and wisdom. Filled with the Solomonic texts of the Bible, along with lesser–known magical texts and other writings, this book challenges both religious and secular assumptions. Even as it seeks to tell the story of ancient Israel's greatest ruler, this insightful book is also a meditation on the Solomonic desire to know all of life's secrets, and on the role of this desire in world history.

About Jewish Lives: 

Jewish Lives is a prizewinning series of interpretative biography designed to explore the many facets of Jewish identity. Individual volumes illuminate the imprint of Jewish figures upon literature, religion, philosophy, politics, cultural and economic life, and the arts and sciences. Subjects are paired with authors to elicit lively, deeply informed books that explore the range and depth of the Jewish experience from antiquity to the present.

In 2014, the Jewish Book Council named Jewish Lives the winner of its Jewish Book of the Year Award, the first series ever to receive this award.

More praise for Jewish Lives:

"Excellent." –New York Times

"Exemplary." –Wall Street Journal

"Distinguished." –New Yorker

"Superb." –The Guardian
Praise For Solomon: The Lure of Wisdom (Jewish Lives)…
"Steve Weitzman turns the challenge of writing a biography of King Solomon into a meditation on the quest for unattainable knowledge, an enterprise equally embodied in the figure of Solomon in Scripture and in legend. There is something deeply human about this appealing book of intellectual distinction."--Robert Alter
— Robert Alter
"In looking anew at Solomon's life, [Weitzman] offers answers to many questions about the accomplished and wise king, and writes of Solomon's significance to Jews, Christians and Muslims."—Sandee Brawarsky,
Jewish Week
— Sandee Brawarsky
"A thoroughly entertaining treatment of a controversial topic."—
Publishers Weekly
— Publisher's Weekly
"Weitzman captures the longstanding ambivalence regarding the pursuit of knowledge that has troubled many a Western imagination and that continues to the present day."—Eve Levavi Feinstein,
Jewish Ideas Daily
— Eve Levavi Feinstein
"
Solomon
is an engrossing, elegant and erudite exegesis of the quest for knowledge—and an examination of where wisdom originates, the shapes it takes, the Faustian bargains it often makes and the tragic end to which it often comes."—Glenn Altschuler,
Forward
— Forward
"Fascinating. . . . Provocative."—Aaron Leibel,
Washington Jewish Week
— Aaron Leibel
"Compelling . . . .Weitzman's subject matter is ostensibly Solomon, but what he gleans for modern readers are bigger lessons."—Priya Ramachandran,
Baltimore Jewish Times
— Priya Ramachandran
"[Weitzman's] discussions of the way Solomon's story and its meaning have changed over time do an excellent job highlighting how an interpretation can tell one more about the storyteller than the original tale. . . . By not trying to be a traditional biography,
Solomon: The Lure of Wisdom
successfully shows how one can use the biblical text to gain a better understanding of the human condition."—Rabbi Rachel Esserman,
The Reporter
— Rabbi Rachel Esserman
"Weitzman approaches his subject with levity and erudition, balancing his interpretive views between religious lore and secular scholarship in a voice that laypeople and scholars alike can appreciate. . . . Highly recommended."—S.H. Werlin,
Choice
— S.H. Werlin
"This fascinating and informative book will be of interest to both Jewish and Christian readers."—Ellen Share, Association of Jewish Libraries Reviews
— Ellen Share
Yale University Press, 9780300137187, 240pp.
Publication Date: March 29, 2011
About the Author
Steven Weitzman is the Daniel E. Koshland Professor of Jewish Culture and Religion at Stanford University. He was awarded the Gustave O. Arlt Prize for Outstanding Scholarship in the Humanities for his first book, Song and Story in Biblical Narrative, and has received fellowships from the American Council of Learned Societies and the Yad-Hadiv Foundation. His other books include Surviving Sacrilege and The Jews: A History.
or
Not Currently Available for Direct Purchase