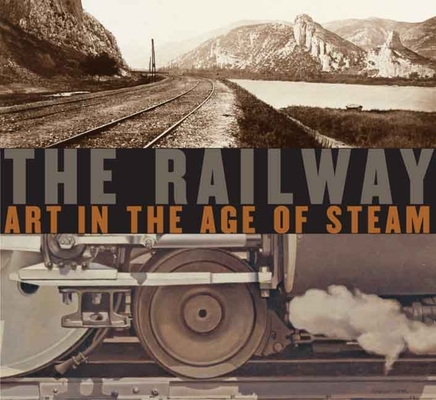 The Railway (Hardcover)
Art in the Age of Steam
Yale University Press, 9780300138788, 288pp.
Publication Date: June 5, 2008
* Individual store prices may vary.
Description
A fascinating account of how the railway influenced more than a century of art in Europe and America

Steam locomotives gripped the imagination when they first appeared in 19th-century Europe and America. Aboard these great machines, passengers traveled at faster speeds than ever before while watching the scenery transform itself and take on new forms. Common notions of time and space were forever changed.
Through vivid illustrations and engaging texts, The Railway: Art in the Age of Steam captures both the fear and excitement of early train travel as it probes the artistic response to steam locomotion within its social setting. Featuring paintings, photography, prints, and posters, the book includes numerous masterpieces by 19th- and 20th-century artists, including J. M. W. Turner, Claude Monet, Camille Pissarro, Charles Sheeler, and Edward Hopper.
With its wide variety of themes—landscape painting, the conquest of the West, Impressionism, issues of social class, Modernism, the aesthetics of the machine, and environmental concerns—this work promises an exhilarating journey for both train and art enthusiasts and for anyone interested in one of the industrial age's defining achievements.
About the Author
Ian Kennedy is Louis L. and Adelaide C. Ward Curator, European Painting and Sculpture at The Nelson-Atkins Museum of Art in Kansas City. Julian Treuherz was formerly Keeper of Art Galleries, National Museums Liverpool. Matthew Beaumont is Lecturer in 19th-Century English and American Literature at University College London. Michael Freeman is Supernumerary Fellow and Lecturer in Human Geography at Mansfield College, Oxford University.
Praise For The Railway: Art in the Age of Steam …
"For anyone who likes trains or historical painting and photography, this book is a winner."—John Linsenmeyer, The Greenwich Times
— John Linsenmeyer
"Beautiful. . . . [This] is not just a fine museum catalogue, but a truly comprehensive study of the impact of railways on society as recorded by nineteenth- and early twentieth-century painters and photographers."—Barrymore Laurence Scherer, Antiques
— Barrymore Laurence Scherer
"The Railway captures the excitement, awe and dread that locomotives inspired in their heyday, among artists as well as the general public. . . . It should satisfy rabid trainspotters and art lovers alike."—Sheila Gibson Stoodley, Art & Antiques
— Sheila Gibson Stoodley
"This book's range, quality and craftsmanship astonished me. I'm not alone in my fascination with rails and engines, but even if you have only a casual interest, I defy you to be nonchalant about the contents."—Kansas City Star
— Kansas City Star
"This . . . catalogue presents an impressive range of mostly European and American images . . . of steam locomotives, track, bridges, and passengers. . . . essays . . . offer perceptive analysis and helpful background. . . . Over 200 excellent illustrations enhance this superb overview of a fascinating subject . . ."—Choice
— Choice
"Beautifully designed and lavishly illustrated. . . . Kennedy and Treuherz have collected an impressively broad range of images."—Kenneth John Myers, Winterthur Portfolio
— Kenneth John Myers
or
Not Currently Available for Direct Purchase