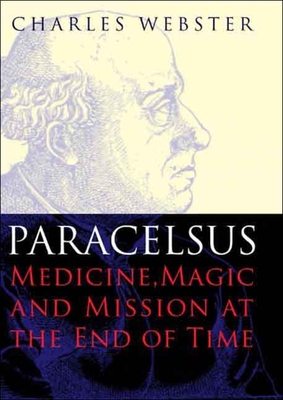 Paracelsus
Medicine, Magic and Mission at the End of Time
Hardcover

* Individual store prices may vary.
Description
Theophrastus von Hohenheim (1493–1541), better known as Paracelsus, was a physician, natural magician, radical activist of the early Reformation, and commentator on the social and religious issues of his day. This elegantly written book is the defining account of the man known as "Paracelsus the Great."
Drawing on the whole range of relevant manuscript and printed sources, Charles Webster considers Paracelsus's life and works, explores his advocacy for total reform of the clerical, legal, and medical professions, and describes his precise expectations for the Christian church of the future, focusing on his affinity with the spiritualist Anabaptists. The author concludes with the apocalyptic speculations of Paracelsus, who vividly portrayed the sense of endtime crisis that constituted one of the defining characteristics of his era.
Praise For Paracelsus: Medicine, Magic and Mission at the End of Time…
"Historians of science, medicine, and magic along with Reformation historians will benefit from this work."--American Historical Review
— American Historical Review
"Here it is at last, the Paracelsus book that some of us have been waiting for for years. . . . All in all this new account of that mysterious but compelling character Paracelsus will be widely welcome and will provide the stimulus for further study of this fascinating period of revolutionary strife in Europe, which its participants believed to be a turning point in world history."—Andrew Cunningham,
The British Journal for the History of Science
— Andrew Cunningham
"In Webster's skillful hands, Paracelsus (1493-1541) is transformed from an alchemical quack into an engaging and sympathetic radical religious and medical reformer...Webster's erudite account is a wake-up call for scholars of the Radical Reformation to become acquainted with the ideas of reformers in other fields, such as medicine and philosophy."--Gary K. Waite,
The Mennonite Quarterly Review
— Gary K. Waite
"This is a fascinating book, which shows vividly the urgency with which Paracelsus engaged with the world in which he lived, and the complexity of that world. It will doubtless become a standard work for those dealing with this complex figure."--Charlotte Methuen,
The Journal of Ecclesiastical History
— Charlotte Methuen
"[A] masterful new book, integrating Paracelsus's various pursuits as a coherent and urgent mission to reform a world in crisis on the brink of the End Times. . . . This learned, engaging, and comprehensive study will certainly remain the standard study of Paracelsus for some time, and deservedly so."—Tara Nummedal,
Renaissance Quarterly
— Tara Nummedal
"Webster's portrayal of Paracelsus reveals a multidimensional and more comprehensible figure. Webster is able to reshape our understanding of Paracelsus as a revolutionary reformer. . . . Webster's book is a substantial work that contextualizes Paracelsus, and entrenches the figure as a man worthy of note not only for his contributions to medicine and science, but also as relevant to discussions of sixteenth-century German religious reform."—Katherine Walker,
The Sixteenth Century Journal
— Katherine Walker
"A valuable resource."—Eric Lund,
Church History
— Eric Lund
Yale University Press, 9780300139112, 330pp.
Publication Date: December 16, 2008
About the Author
Charles Webster is emeritus fellow of All Souls College, Oxford.
or
Not Currently Available for Direct Purchase