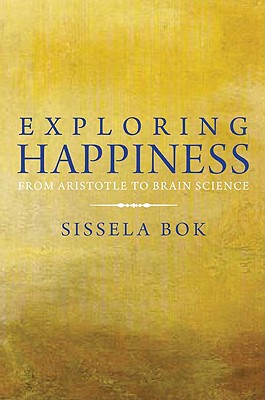 Exploring Happiness
From Aristotle to Brain Science
Hardcover

* Individual store prices may vary.
Other Editions of This Title:
Paperback (7/11/2011)
Description
In this smart and timely book, the distinguished moral philosopher Sissela Bok ponders the nature of happiness and its place in philosophical thinking and writing throughout the ages. With nuance and elegance, Bok explores notions of happiness from Greek philosophers to Desmond Tutu, Charles Darwin, Iris Murdoch, and the Dalai Lama as well as the latest theories advanced by psychologists, economists, geneticists, and neuroscientists. Eschewing abstract theorizing, Bok weaves in a wealth offirsthand observations about happiness from ordinary people as well as renowned figures. This may well be the most complete picture of happiness yet.
This book is also a clarion call to think clearly and sensitively about happiness. Bringing together very different disciplines provides Bok with a unique opportunity to consider the role of happiness in wider questions of how we should lead our lives and treat one another concerns that don t often figure in today's happiness equation. How should we pursue, weigh, value, or limit our own happiness, or that of others, now and in the future? Compelling and perceptive, Exploring Happiness shines a welcome new light on the heart of the human condition.
Praise For Exploring Happiness: From Aristotle to Brain Science…
"It is hard to imagine how anyone else, in fewer than 200 pages of text, could better encompass so much Western thinking about a question so important to the way we live."—Wall Street Journal


"Sissela Bok makes sense of happiness for adults: what sort of happiness we can seek, and what lies beyond our grasp. The book illuminates ''the pursuit of happiness'' in modern economics, psychiatry, and philosophy, but she addresses, in the end, any intelligent reader. Sissela Bok writes so clearly and directly that the reader is often caught up short, suddenly realizing that her arguments are always provocations to think more deeply. This is a wise book."—Richard Sennett


-Richard Sennett

"What causes true happiness? From ancient philosophers to contemporary neuroscientists -- as well as any of us searching for how to lead a good life -- people have grappled with that most profound of all simple questions. Sissela Bok weaves together the different conceptions of happiness to create a shimmering and subtle tapestry. This book will take you a step closer to happiness by helping you understand the idea better."—Walter Isaacson, President and CEO, the Aspen Institute


-Walter Isaacson

"A profound, erudite, and lucid exploration integrating a vast array of sources - personal, philosophical, historical, scientific and spiritual - that cohere to illuminate this elusive subject."—Barbara Goldsmith


-Barbara Goldsmith

"Very smart, sensitive, and thought-provoking. . . . This thoughtful, beautifully written book makes one feel one is present, conversing with the very best minds of the last 2500 years on one of the few philosophical problems that is of universal importance."—Owen Flanagan, Notre Dame Philosophical Reviews
-Owen Flanagan

"Sissela Bok offers a clear and engaging historical tour though dozens of competing philosophical renderings of happiness over the ages."—Timothy Renick, The Christian Century
-Timothy Renick

"Happiness is complicated. And Bok elaborates its complications through labyrinthine pathways. . . . Exploring Happiness is an intellectual feast. . . . It is an invitation to turn to personal writing and reflection and to past thinkers from Goethe to Swedish feminist Ellen Key, who thought that happiness was the process of developing our capabilities. Exploring Happiness explores not only happiness but the question of how we should live our lives."—Priscilla Long, The American Scholar
-Priscilla Long

"[A] wide-ranging study. . . . Bok''s fluently written book is an outstanding guide to a topic sure to interest the general reader as well as specialists in philosophy, psychology, and brain science."—David Gordon, Library Journal
-David Gordon

"[Bok] sets up a fascinating dialogue between insights from the history of philosophy and recent work in the social and natural sciences. . . . It will be a treasure for the philosophical counselor: in the classroom, for background reading and for work with clients. . . . authoritative, engagingly written, and thorough."—Kathryn Russell, Philosophical Practice
-Kathryn Russell
Yale University Press, 9780300139297, 224pp.
Publication Date: August 1, 2010
About the Author
Sissela Bok is Senior Visiting Fellow at the Harvard Center for Population and Development Studies, and a moral philosopher of international renown. A former member of the Pulitzer Prize Board, Bok is a Fellow of the American Academy of Political and Social Science, and sits on the editorial boards of the Bulletin of the World Health Organization, Common Knowledge, and Ethical Theory and Moral Practice. Her many books include the seminal Lying, Secrets, A Strategy for Peace, Mayhem, and Common Values. She lives in Cambridge, Massachusetts.
Coverage from NPR
or
Not Currently Available for Direct Purchase