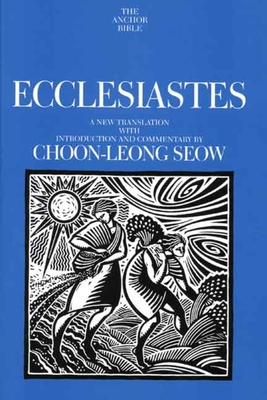 Ecclesiastes (The Anchor Yale Bible Commentaries)
Hardcover

* Individual store prices may vary.
Description
Good advice that stands the test of time-those things we all know are true, tips that help us live the good life-we call wisdom. But, one life time is not enough to master the fine art of living. Distilled over centuries, the biblical book of Ecclesiastes offers us the time-tested advice of Israel's sages. This is the best of wisdom, with echoes of East and West-from Zen and Tao to Merton and Moore--all rolled into one.
In Ecclesiastes, Bible scholar Choon-Leong Seow creatively translates and carefully interprets one of the world's most profound, most enduring collections of ancient wisdom. Sometimes joyful and exultant, other times cynical and fatalistic, the ancient author Qohelet ("Teacher") wrestles with the ups and downs of real life. Even today, we recognize and repeat the sayings of this treasure-trove of apt advice. The book begins and ends with the infamous claim, "Vanity of vanities, says Qohelet, vanity of vanities! All is vanity!" In between, the sage leaves no stone unturned in the search for meaning. As the wisdom of biblical Ecclesiastes has stood the test of time, so shall Dr. Seow's Ecclesiastes become a classic in the venerated tradition of the Anchor Bible series.
Yale University Press, 9780300139600, 448pp.
Publication Date: June 16, 1997
or
Not Currently Available for Direct Purchase