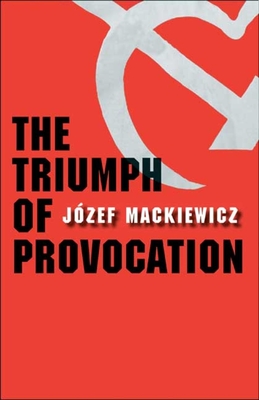 The Triumph of Provocation
Hardcover

* Individual store prices may vary.
Description
This masterful political treatise, first published in 1962, examines the history and nature of Communism as it developed in the Soviet Union and in Poland. Józef Mackiewicz, known for his relentless opposition to Communism, argues that accommodation with the Communists simply helped them to impose their vision of the world and pursue their goal of global domination. He compares Communism to Nazism and insists that the former was the greater threat to the future of humanity.
Now available in English for the first time, The Triumph of Provocation will be compelling reading for those interested in Polish history, Communism, and Nazism.
Mackiewicz's unique interpretation of the differences and similarities between Communism and Nazism is highly relevant to debates about these two systems and to major contemporary issues which are of particular importance to the U.S. and Europe, including radical Islam and the necessity of war and the responsibility for war.
Praise For The Triumph of Provocation…
"Mackiewicz's controversial interpretation of Communism and its role in history is still hotly debated and relevant. Students of Communism and anti-Communism will find Mackiewicz's thoughts provocative and worthy of examination."—Jaroslaw Anders
— Jaroslaw Anders
"Mackiewicz, who knew the Nazi and Communist systems at first hand, retains a freshness and a directness that can aid historians and thinkers who today grapple with the problem of understanding Hitler and Stalin together."-Timothy Snyder, Yale University
— Timothy Snyder
"One hopes that Yale University Press will continue to bring out the numerous other books by this pugnacious reactionary liberal."--Marek Jan Chodakiewicz,
The Samaritan Review
— Marek Jan Chodakiewicz
Yale University Press, 9780300145694, 256pp.
Publication Date: July 28, 2009
About the Author
Józef Mackiewicz (1902–1985) was an eminent Polish writer of fiction and nonfiction. The late Jerzy Hauptmann was professor emeritus of political science and public administration at Park University. S. D. Lukac is a retired translator living in the U.S. Martin Dewhirst is honorary research fellow, Department of Slavonic Studies, University of Glasgow.