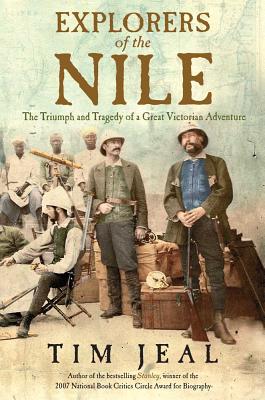 Explorers of the Nile: The Triumph and Tragedy of a Great Victorian Adventure (Hardcover)
The Triumph and Tragedy of a Great Victorian Adventure
Yale University Press, 9780300149357, 510pp.
Publication Date: November 1, 2011
* Individual store prices may vary.
or
Not Currently Available for Direct Purchase
Description
Nothing obsessed explorers of the mid-nineteenth century more than the quest to discover the source of the White Nile. It was the planet's most elusive secret, the prize coveted above all others. Between 1856 and 1876, six larger-than-life men and one extraordinary woman accepted the challenge. Showing extreme courage and resilience, Richard Burton, John Hanning Speke, James Augustus Grant, Samuel Baker, Florence von Sass, David Livingstone, and Henry Morton Stanley risked their lives and reputations in the fierce competition. Award-winning author Tim Jeal deploys fascinating new research to provide a vivid tableau of the unmapped "Dark Continent," its jungle deprivations, and the courage as well as malicious tactics of the explorers.
On multiple forays launched into east and central Africa, the travelers passed through almost impenetrable terrain and suffered the ravages of flesh-eating ulcers, paralysis, malaria, deep spear wounds, and even death. They discovered Lakes Tanganyika and Victoria and became the first white people to encounter the kingdoms of Buganda and Bunyoro. Jeal weaves the story with authentic new detail and examines the tragic unintended legacy of the Nile search that still casts a long shadow over the people of Uganda and Sudan.
About the Author
Tim Jeal is also the biographer of Henry Morton Stanley (National Book Critics' Circle Award in Biography and Sunday Times Biography of the Year 2007), and Robert Baden-Powell, which (like Livingstone) was chosen as a Notable Book of the Year by the New York Times and the Washington Post. In 2011 his Explorers of the Nile was a New York Times Editor's Choice and a BBC Radio 4 Book of the Week.
Praise For Explorers of the Nile: The Triumph and Tragedy of a Great Victorian Adventure…
"Tim Jeal''s masterly book ... can safely supplant Alan Moorehead''s 1960 classic, The White Nile... Jeal also knows how to tell a fabulous story, and he lets old-fashioned epic adventure sit at the heart of his fine book." —James McConnachie, Sunday Times
-James McConnachie

"[A] wonderfully entertaining and authoritative account of the search for the Nile and its consequences...There is something intensely moving about the the way in which Jeal has sought to restore Speke''s reputation."—John Preston, Sunday Telegraph
-John Preston

"Tim Jeal''s wonderful book is filled with anecdotes and brilliant cameos, which keep the narrative fresh and sparklingly alive. His treatment of these legendary figures is authoritative and compassionate."—Alexander Maitland, Literary Review
-Alexander Maitland

"There are few greater stories than the race to the Nile''s source... Tim Jeal gives a fine reprise, bringing together in one well-paced narrative the interlocking Nilotic adventures ... Its place [is] alongside the classics of Victorian explorer history."—Tim Butcher, Daily Telegraph
-Tim Butcher

"If there is one book about the search for the sources of the Nile to read and keep on the shelf, this is it."—Tim Severin, Irish Examiner
-Tim Severin

"Epic in proportion...An absorbing adventure and a thought provoking morality tale."—Peter Burton, Daily Express
-Peter Burton

"Splendid."—Bernard Porter, Guardian

"Tim Jeal''s gripping book pulls the whole astonishing story together. . . . It''s as intricate and unexpected as the source of the river itself. . . All the main players were. . . examples of grit, resourcefulness and courage on a heroic scale. . . . How intimately Tim Jeal knows them all, and brings them back to life for us."—Tom Stacey,  The Spectator
-Tom Stacey

"Masterly...The complicated narrative is well told with exemplary scholarship and great and compelling lucidity...One of the fascinations of Jeal''s book and his account of this astonishing period of exploration is that it makes great efforts to strip away the accumulated myths and through this process we can begin to see these ''heroic'' figures plain, to imagine them as they were to their contemporaries."—William Boyd, TLS
-William Boyd

"Superb narrative . . . Jeal's judicious account is a must-read for anyone hoping to understand the internal dynamics of modern state-building in central Africa."—Brian Odom, Booklist
-Brian Odom

"Explorers of the Nile is a brilliant, scholarly and at times almost unreadably vivid account of the two decades in the middle of the 19th century when the search for the Nile's source in central Africa was at its height."—Ben Macintyre, New York Times Book Review
-Ben Macintyre

"Elegantly written and skillfully crafted...The greatest strengths of this highly enjoyable and readable book are Jeal's passion for his subject and his mastery of personalities as complex as the geography they battled to understand."—Diane Preston, Washington Post
-Diane Preston

"Jeal''s lengthy, comprehensive, and revisionist book is exciting reading both about the adventures in the field and about the clash of personalities."—Rob Hardy, The Dispatch
-Rob Hardy
Advertisement