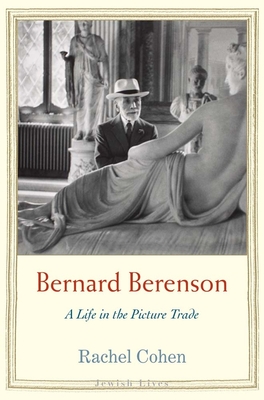 Bernard Berenson
A Life in the Picture Trade (Jewish Lives)
Hardcover

* Individual store prices may vary.
Description
From the prizewinning Jewish Lives series, an illuminating new biography of the connoisseur who changed the art world and the way we see art 
When Gilded Age millionaires wanted to buy Italian Renaissance paintings, the expert whose opinion they sought was Bernard Berenson, with his vast erudition, incredible eye, and uncanny skill at attributing paintings. They visited Berenson at his beautiful Villa I Tatti, in the hills outside Florence, and walked with him through the immense private library—which he would eventually bequeath to Harvard—without ever suspecting that he had grown up in a poor Lithuanian Jewish immigrant family that had struggled to survive in Boston on the wages of the father's work as a tin peddler. Berenson's extraordinary self-transformation, financed by the explosion of the Gilded Age art market and his secret partnership with the great art dealer Joseph Duveen, came with painful costs: he hid his origins and felt that he had betrayed his gifts as an interpreter of paintings. Nevertheless his way of seeing, presented in his books, codified in his attributions, and institutionalized in the many important American collections he helped to build, goes on shaping the American understanding of art today.

This finely drawn portrait of Berenson, the first biography devoted to him in a quarter century, draws on new archival materials that bring out the significance of his secret business dealings and the way his family and companions—including his patron Isabella Stewart Gardner, his lover Belle da Costa Greene, and his dear friend Edith Wharton—helped to form his ideas and his legacy. Rachel Cohen explores Berenson's inner world and exceptional visual capacity while also illuminating the historical forces—new capital, the developing art market, persistent anti-Semitism, and the two world wars—that profoundly affected his life.

About Jewish Lives: 

Jewish Lives is a prizewinning series of interpretative biography designed to explore the many facets of Jewish identity. Individual volumes illuminate the imprint of Jewish figures upon literature, religion, philosophy, politics, cultural and economic life, and the arts and sciences. Subjects are paired with authors to elicit lively, deeply informed books that explore the range and depth of the Jewish experience from antiquity to the present.

In 2014, the Jewish Book Council named Jewish Lives the winner of its Jewish Book of the Year Award, the first series ever to receive this award.

More praise for Jewish Lives:

"Excellent" –New York Times

"Exemplary" –Wall Street Journal

"Distinguished" –New Yorker

"Superb" –The Guardian
Praise For Bernard Berenson: A Life in the Picture Trade (Jewish Lives)…
"A highly sympathetic and graceful portrait of Bernard Berenson, the art connoisseur and dealer who remade himself into a work of art, priced and priceless, which he protected, cultivated, and even at times bartered: Rachel Cohen's Bernard Berenson is an illuminating tale of this self-transformation, its successes and pitfalls, told with stalwart compassion."--Brenda Wineapple, author of Ecstatic Nation: Confidence, Crisis, and Compromise, 1848-1877
— Brenda Wineapple
"An insightful, richly detailed account of Bernard Berenson's brilliant transformation from an immigrant Jew and son of a tin peddler into a connoisseur of Italian Renaissance painting and a dealer in secret partnership with Joseph Duveen. With the keen gaze that Berenson brought to a picture, Rachel Cohen analyzes his high-wire act of self-invention against the glittering, aristocratic, anti-Semitic world of art collecting."--Cynthia Saltzman
— Cynthia Saltzman


"Cohen draws a psychological portrait of a man guided by passionate aesthetic ideals and tortured by the compromises in the world of commerce that he felt compelled to make. . . . If you live in an American city, there's a good chance that you can go to a museum today and see an exquisite Sienese Madonna, or a Venetian Holy Family, or a Florentine portrait. You have Berenson—and his collector-acolytes—to thank."—Hugh Eakin, Wall Street Journal
— Hugh Eakin

"The most dynamic biography yet of the groundbreaking art historian Bernard Berenson...Cohen investigates Berenson's contradictions, metamorphoses, and dramatically unconventional life with vivacious authority. . . . Cohen deftly channels the sweeping intensity of Berenson's aesthetic ecstasy, hard-won expertise, surprising adventures, and vital legacy."—Booklist, Starred Review
— Booklist, Starred Review

"In her remarkable biography, Cohen approaches Berenson's life as a panorama full of artifice and profundity, whose brilliant flashes of color are inextricable from its substrates of shadow. The book leaves an indelible impression, not merely in the way it catalogues Berenson's accomplishments and failings, but also in its dissection of the struggle between desire and alienation that characterizes American art—and life—to this day."—Thomas Micchelli, Bookforum
— Thomas Micchelli


Book of the Week
"[As] Rachel Cohen, the author of this elegantly written biography. . . .nicely puts it, Berenson was 'a person whose capacity for metamorphosis approached that of a moth.'"—Martin Gayford, The Sunday Telegraph
— Martin Gayford


"Rachel Cohen's unobtrusively and thoroughly well written short volume skilfully negotiates the contradictory sides of Berenson's character – the aesthete and the huckster; the man who lived only for art and the man who very much liked to surround himself with the appurtenances of wealth."—Sam Leith, The Spectator
— Sam Leith

"Rachel Cohen has written an admirable short life...[and] a touching portrait"—James Stourton, Literary Review
— James Stourton

"Berenson's extraordinary and colorful life—from his humble birth in Lithuania, to Harvard and thence to his august and influential position as a critic and art historian, to the renowned splendor of his Florentine villa I Tatti—makes a rich and compelling subject. Ms. Cohen's remarkable book affords the occasion also for rumination upon self-invention and authenticity, upon the making of the man, and of taste, too."—Claire Messud, Wall Street Journal
— Claire Messud

"Rachel Cohen who has written an extremely thoughtful and readable biography of Berenson"—Charles Saumarez-Smith, Apollo Magazine
— Charles Saumarez-Smith

Chosen as a highly recommended book by the Boston Authors Club in 2014.
— Honorable Mention

"An absorbing new biography."—Jewish Daily Forward
— Jewish Daily Forward


'This book proves to be a remarkably balanced treatment of a profoundly complicated and compelling life.'—Robert Simon, Burlington Magazine
— Robert Simon
"An irresistibly readable and accessible account of this complicated character, who could be by turns brilliant and petty, generous toward others and scornful of himself, an inveterate philanderer and a staunch husband."—Ann Landl,
ARTnews
— Ann Landl
Shortlisted for the 2015 Jewish Quarterly Wingate Prize 2014
— Wingate Prize
Yale University Press, 9780300149425, 344pp.
Publication Date: October 22, 2013
About the Author
Rachel Cohen is the author of A Chance Meeting: Intertwined Lives of American Writers and Artists, winner of the PEN/Jerard Fund Award. Her essays have appeared in The New Yorker, The Guardian, The Believer, Best American Essays, and many other publications. She teaches creative writing at Sarah Lawrence College. She keeps a notebook on looking at paintings at http://rachelecohen.com.
or
Not Currently Available for Direct Purchase